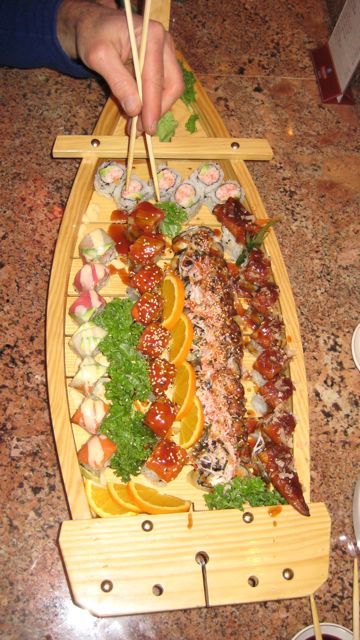 FRISCO — Copper Mountain features plenty of fine apres-ski venues and dinner spots, but if you want to add a culinary dimension to your ski vacation, consider exploring some of Summit County's far-flung eateries, including a few of these local favorites.
By far our favorite go-to spot is Silverthorne's venerable Bamboo Garden, multiple "Best Of Summit County" winner for Asian food in the local paper's annual reader poll. Through different sets of owners, the pink stucco palace serves up a steady stream of tasty sushi, Thai curries and crispy sweet sesame chicken. Our current favorite is the Panang green curry with yellowtail, scrumptiously seasoned with that unmistakeable spicy-sweet combo of coconut milk and chili.
The restaurant delivers as far as Frisco, but if roads are clear, it's well worth the trip to the Office Max shopping center along Highway 6 — Look for the McDonalds, or put this address in your travel app: 190 Meraly Way Silverthorne, CO 80498, (970) 468-6888.
We don't often eat out in Frisco, but when the in-laws are in town, we go to Vinny's, a classic Italian eatery tucked just off the town's comfy Main Street. We've never been disappointed by the pasta dishes, and the kitchen grills up fine steaks, as well.
For a classic Colorado mountain-town breakfast, head to the Butterhorn Bakery, another long-time Main Street place with all the traditional breakfast items, including some big croissant sandwiches that'll keep the ski fires stoked most of the day.
Right across the street is Pika Bagel Bakery & Cafe, which has been around forever and has a great mix of locals on their way to work and in-the-know visitors who line up for some of the freshest bagels in the county. Pika probably also takes honors for the most interesting bulletin board, with newspaper clippings that qualify for historic status. Grab an Egg Man bagel sandwich and hide away in the cozy corner couch seat to watch a Summit County morning unfold.
And don't leave Frisco without trying Food Hedz, where the food is cooked with love, conviction, passion — and fresh ingredients. The restaurant is close to the local Walmart along the Highway 9 strip, but you step away from all that when you walk into the rustically painted nook and smell the food broiling away in the open kitchen. The menu changes seasonally and currently features a tasty looking pork filet from a local farm. Food Hedz also always has one hearty vegetarian entree on the menu.
For fine dining, Keystone is always a good call. The resort's chefs are acclaimed as culinary masters, and at the top of the mountain, literally, is the Alpenglow Stube, where you trade your ski boots for fuzzy slippers at the door. Getting to the Stube is an adventure in itself. Nighttime dining requires a two-stage gondola ride from the River Run base, but the innovate menu makes it worth the trip. More fun is to visit the Stube for Sunday brunch, when you can ski in, ski out and sample a true smorgasbord.
For family fun, Keystone also features the grammatically awkward Der Fondue Chessel, like the Stube, located at the top of the Outback in the Outpost restaurant. In the evening, the cafeteria converts to a Euro-style inn, where guests cook up their own cheese, meat and chocolate fondues while an authentic Austrian band oom-pahs its way through some rousing beer anthems.
The fondue meal is a set price and best enjoyed with a group of friends who like grilled meat and aren't afraid to stand up and do the Chicken Dance.
Keep in mind, this isn't a complete listing of great spots to eat in Summit County, just a short sketch of a few places where we've enjoyed some good food, great company and fun times.