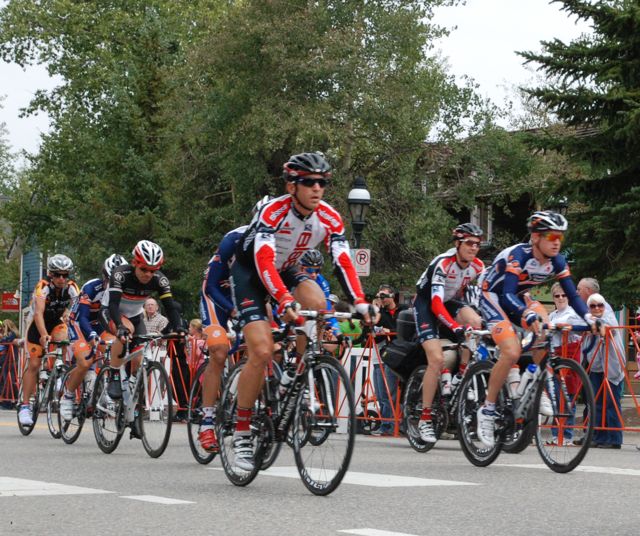 The world's best bike racers may still be contesting the toughest stages in the Tour de France, but some of them will soon be racing up mountains twice as high when they compete in the 2014 USA Pro Challenge (Aug. 18-24), including several stages near Copper Mountain.
You can easily watch several stages if you're staying at Copper Mountain vacation rental during race. More information here.
Race organizers said this week that a very competitive field is once again lining up for the race through Colorado, with teams from six countries ready to tackle classic Colorado climbs and descents, not to mention a thrilling time trial near Vail and the final circuit stage through Denver.
Led by UCI ProTeams BMC Racing Team, Cannondale Pro Cycling, Team Garmin-Sharp, Tinkoff-Saxo and Trek Factory Racing, the race will include some of the top talent in the sport. The heart-pounding seven-day stage race through the Colorado Rockies will travel 550 miles from Aspen to Denver, making stops in cities known for their cycling culture and history such as Vail and Boulder.
"We consistently get such an overwhelmingly positive response from the teams that participate in the Pro Challenge each year," said Rick Schaden, owner of the USA Pro Challenge. "The race continues to build momentum year after year and we'll look to build on that in 2014 by welcoming back some veteran teams and introducing some new ones to the challenging terrain and beautiful scenery of Colorado."
"We've had huge success in the Pro Challenge the past three years and we're looking forward to returning for a fourth," said Jonathan Vaughters, CEO, Slipstream Sports and Team Garmin-Sharp. "As a Colorado-based team, this is a race we look forward to all year and the riders always bring their a-game. Last year Lachlan Morton won the Best Young Rider competition and Tom Danielson got third overall, so we have high goals for the race and we will give fans plenty of reasons to cheer."
Following is the complete list of teams that will be competing in the 2014 USA Pro Challenge:
UCI ProTeams
UCI Professional Continental Teams
UCI Continental Teams
"The USA Pro Challenge has featured some of the best teams in the world over the last three years and 2014 will be no different," said Shawn Hunter, CEO of the Pro Challenge. "We're giving cycling fans in the United States the chance to see the teams they love up close and in person. Interest in the race continues to grow and this year's diverse roster of teams is going to create seven intensely competitive days of racing in August."
After a tough week of challenging racing over mountains at high altitudes, the 2013 race concluded with an exciting finish in Denver to the roar of cheering fans. This year's race promises to be just as exciting with the first (BMC) and second place (Garmin-Sharp) teams from last year returning. Additionally the teams of last year's jersey winners are confirmed to compete again – overall winner Tejay van Garderen's BMC Racing Team; Sprint Jersey winner Peter Sagan's team Cannondale Pro Cycling; King of the Mountains Jersey winner Matt Cooke's team Jamis-Hagens Berman p/b Sutter Home; and Best Young Rider Jersey winner Lachlan David Morton's team Garmin-Sharp.
"We're really looking forward to racing in the USA Pro Challenge again this year," said Cannondale Team Director Alberto Volpi. "With tough, competitive racing and amazing crowds, this is the kind of race we love. Last year the team rode really well and Peter Sagan took the sprint jersey. This year, we're coming back to take stages and be again among the main contenders. We'll certainly bring a strong team."
The Pro Challenge is welcoming seven new teams for their first appearance in the race, including Trek Factory Racing, Drapac Professional Cycling, Team NetApp – Endura, Bissell Development Team, Hincapie Sportswear Development Team, Rapha Condor JLT and Team SmartStop. Additionally five veteran teams will be returning for a fourth time in 2014, having participated in every edition of the Pro Challenge – BMC Racing Team, Team Garmin-Sharp, Cannondale Pro Cycling (formerly Liquigas-Cannondale), Team Novo Nordisk (formerly Team Type 1) and UnitedHealthcare Pro Cycling Team.
About the USA Pro Challenge
Referred to as "America's Race," the USA Pro Challenge will take place August 18-24, 2014. For seven consecutive days, the world's top athletes race through the majestic Colorado Rockies, reaching higher altitudes than they've ever had to endure. One of the largest cycling events in U.S. history and the largest spectator event in the history of the state, the USA Pro Challenge continues to set records in professional cycling by taking the riders to unprecedented elevations. Featuring a challenging course, the fourth annual race will spotlight the best of the best in professional cycling and some of America's most beautiful scenery.
More information can be found online at [url=http://www.usaprochallenge.com]http://www.usaprochallenge.com[/url] and on Twitter at @USAProChallenge.