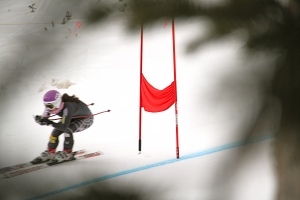 Colorado ski racing fans are counting down the days — just 100 left — until the very best in the world gather in February at Beaver Creek and Vail for the 2015 FIS World Cup ski championships.
American stars like hometown heroes Ted Ligety, Lindsey Vonn and Mikaela Shiffrin will duel against European alpine aces for championship titles in all alpine skiing events.
The races will be held from February 2-15, showcasing athletes from over 70 nations, with an estimated 750 million worldwide television viewers and an onsite media and broadcast entourage of approximately 1,500 members. Follow @VailBeaverCreek2015 on Twitter for daily updates.
Of course Vail and Beaver Creek are already touting lodging packages for the event, but Copper is just a short 15-30 minute drive away from the racing venues. So if you're interested in joining the global ski party, one of our Copper Mountain vacation rentals is an affordable option. That way, you can ski the uncrowded slopes of Copper but zoom over to Beaver Creek to watch the finish of the women's downhill on a newly revamped course.
Last year, Austrian skiers scored the overall World Cup titles, awarded for an overall combination score from multiple disciplines and events, with Marcel Hirscher taking the men's title and Anna Feringer winning the women's crown for the first time. Ted Ligety won the giant slalom title and took fourth in the overall race.
On the women's side, Mikaela Shiffrin won the slalom trophy, the only U.S. woman to place in the top five in any of the World Cup disciplines last winter. As a team, the U.S. wound up in fifth place, behind Austria, Italy, Switzerland and France in the Nations Cup.
Following the Feb. 2 opening ceremonies, both men and women will immediately begin training runs on the acclaimed Beaver Creek courses. The first medals will be awarded Feb. 3 and Feb, 4 in the women's and men's Super-G races. The marquee men's and women's downhill races are scheduled for Feb. 6 and Feb. 7.
NBC will broadcast unprecedented, for the U.S., amounts of ski racing, including more than 25 hours of HD coverage for the 2015 World Championships, including live broadcasts of every event for the first time in history. A record six hours of coverage is planned for NBC with 8.5 hours on NBCSN. Universal Sports Network will provide expanded coverage of the 2015 World Championships on both its cable network and website, airing at least 13 hours from Vail/Beaver Creek, including daily live pre-race shows, additional live coverage of events and full coverage of the Nation's Team Event. NBC's Olympic production team will deliver all of the programming.
Get the full TV listings here.