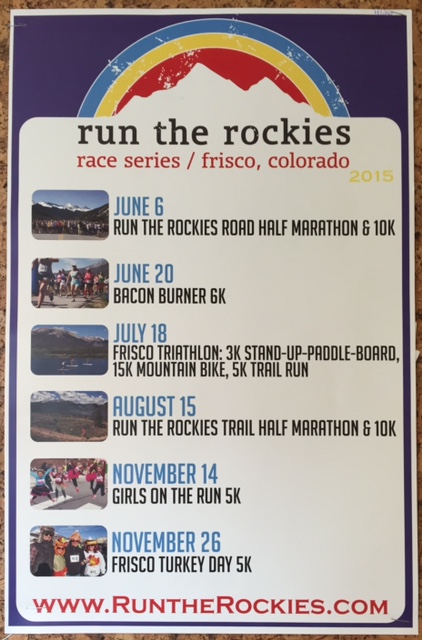 Runners from Colorado and around the country are gearing up the popular Run the Rockies race series, which starts in early June with the half marathon and 10k races along the popular Summit County recpath.
The June 6 race is the first of six races held through mid-August, and this year, the most popular event might be the Frisco Triathlon, being held this year for the second time (July 18).
This unique mountain triathlon features a 3k stand up paddle board leg, 15k of mountain biking and a 5k trail run. This new twist on a triathlon is open to all ability levels and encourages athletes to take on a new multi-sport event with beautiful Dillon Reservoir and the Frisco Peninsula serving as the event location.
The The Kaiser Permanente Bacon Burner 6k (June 20) coincides with the town's 22nd Annual Colorado BBQ Challenge. The 3.8 mile out-and-back run is on the paved Frisco Recreational Path. All racers will receive commemorative Bacon Burner apparel, and all registrants 21 and older will also get a free beer ticket to redeem at the Colorado BBQ Challenge. This race is open to 400 racers and fills quickly because of well stocked bacon aid stations and the opportunity to run off great BBQ.
The Run the Rockies Trail 10k and Half Marathon will round out the Frisco summer racing season on Saturday, August 15, 2015. This race will lead runners throughout the Frisco Peninsula on trails with breathtaking views of Dillon Reservoir, the Gore Range and the Ten Mile Range. This has been proven to be a great course for first time half marathoners, as well as seasoned runners.
But there's more racing into the autumn, with the Girls on the Run 5k on Saturday, November 14. The celebratory, non-competitive event caps a 10 week program for girls in 3rd through 5th grade. This race is open to the public and offers a relatively flat course with spectacular views of the Dillon Reservoir, Buffalo Mountain and Mount Royal.
And finally, work of your Thanksgiving feat with the 3rd Annual Turkey Day 5k Fun Run. All racers are invited to make a non-perishable food donation at the event which will benefit the Family & Intercultural Resource Center of Summit County. A portion of the proceeds will benefit Frisco Elementary' s S.T.E.M. program.