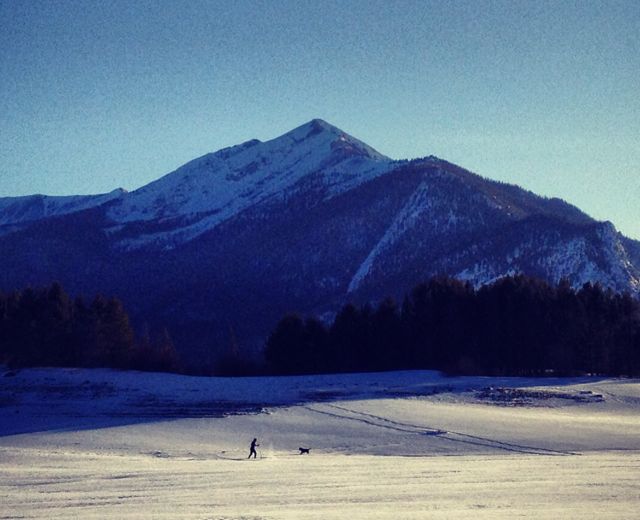 Zipping up the mountain on Copper Mountain's high-speed lifts is awesome, but there's a quieter side to being outside in the winter that will be featured during the 19th annual Winter Trails day on Jan. 11.
Crosscountry ski areas and gear-makers will team up to give winter sports enthusiasts the chance to try snowshoeing and cross country skiing free at venues throughout North America.
"I would encourage everyone to try snowshoeing. There are Winter Trails locations throughout the United States and Canada where everyone can just show up and try out snowshoeing and cross country skiing in the wilderness with family and friends," said Ryan Alford, editor of Snowshoe Magazine. "It is something people of all ages can do. It is a low-impact sport and is very easy. You just put on the snowshoes and you walk."
Winter Trails locations, hours and offerings are posted at WinterTrails.org. Venues include alpine resorts, Nordic centers, state parks, National Park Service and U.S. Forest Service land.
How Winter Trails Day Works
Get excited to learn how to snowshoe and cross country ski this winter.
Invite some really fun friends to take with you.
Find an event location on that WinterTrails.org.
Choose an event you like - such as one that is near you or that has features that interest you.
Complete the online registration and print the completed acknowledgment to take with you.
On event day
Get up early and have a great breakfast.
Dress in whatever you have that will keep you comfortable outside in the winter conditions. Don't forget your hat, gloves and a camera.
When you arrive, you must go through registration, but if you have the printed form you already completed, it should be a breeze.
Get outfitted with snowshoes and cross country skis, and have fun.
"Winter Trails events are designed to be simple and fun while introducing people to new winter activities," said Reese Brown, director of the Winter Trails program. "Our goal is to get people excited about getting outside in the winter. Snowshoeing and cross country skiing appeals to a very diverse group and Winter Trails makes it simple and free to try."
With more than 100 locations around the country and an estimated 11,000 new enthusiasts trying the activities each year through Winter Trails, is the perfect way to begin building a love of snow sports. After you try it once you can simply arrange for return visits to your location of choice. Most event sites operate daily with rentals and instructors.
SnowSports Industries America (SIA), a national, non-profit trade association for snow sports suppliers, manages Winter Trails. Winter Trails sponsors and media partners include: Atlas Snowshoes, Atomic Skis, Cross Country Skier Magazine, Fischer Skis, Madshus, Mountain Safety Research (MSR), Rossignol, Salomon, SkiTrax Magazine, Snowshoe Magazine, Swix, Tubbs, Whitewoods and XCSkiresorts.com.