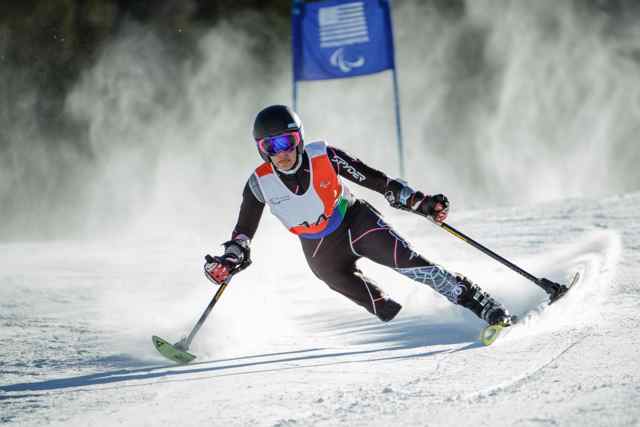 U.S. Paralympian Allison Jones (Colorado Springs) races at Copper Mountain earlier this season. (PHOTO COURTESY JOE KUSUMOTO).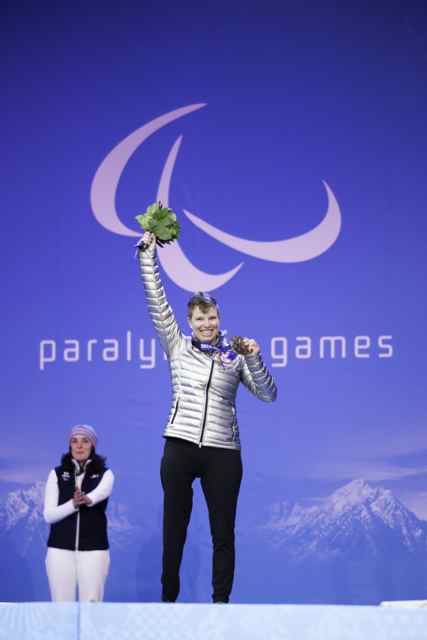 U.S. and Colorado athletes earned podium spots during the first day of competition at the 2014 Paralympic Winter games, with Alana Nichols and Laurie Stephens taking silver and bronze in the women's downhill sitting race.
Colorado's Allison Jones won her eighth Paralympic medal and her first downhill medal, as she took bronze in the women's standing class.
"They are taking really good care of the snow and the course, they are really holding a top notch event in tough conditions," Jones said. "The course workers are out there and every night the course seems to be getting a good freeze which allows me to race; knowing how things are going it's a huge stress reliever. Really it's amazing to be here, amazing to be a part of it."
For Jones (Colorado Springs), it was the eighth Paralympic medal and her first downhill medal. This is the second time Jones has claimed the first American medal of the Games, as she won the first Team USA medal of the London 2012 Paralympic Games in cycling.
Nichols (Farmington, N.M.) and Stephens (Wenham, Mass.) landed on the podium in a very competitive women's sitting race. Nichols crossed the line .14 seconds back from Anna Schaffelhuber of Germany who claimed gold. Stephens was close behind in 1:36.94 to claim bronze.
Nichols now owns six Paralympic medals, with four from the Vancouver 2010 Paralympic Winter Games, and gold in wheelchair basketball in 2008. Stephens is a five-time medalist in alpine skiing, and she has extended her streak of winning a downhill medal at each Paralympic Winter Games since 2006.
"Well, I was really excited this morning to wake up and see the sun come out," Nichols said. "Inspecting the track, it was in great shape, it couldn't have been a better set up," she said. "I felt confident going into this run considering my last two training runs. I knew it was going to be a tight race with Anna Schaffelhuber, as it always is, so I was really giving it.
In visually impaired races, the U.S. team saw a pair of fifth place finishes, with Danelle Umstead (Park City, Utah) and guide Rob Umstead taking fifth, while Mark Bathum (Seattle, Wash.) and guide Cade Yamamoto (Quincy, Wash.) had a similar result in the men's visually impaired race, coming back from a hard crash during Thursday's training run.
It was a challenging day in the men's sitting class, as multiple competitors were unable to complete the course. Team USA's Chris Devlin-Young (Bethlehem, N.H.) skied a clean run to finish tenth. Jasmin Bambur (Granby, Colo.) missed a gate mid-course, while Tyler Walker (Franconia, N.H.) was transported off the mountain by helicopter after crashing on the course.