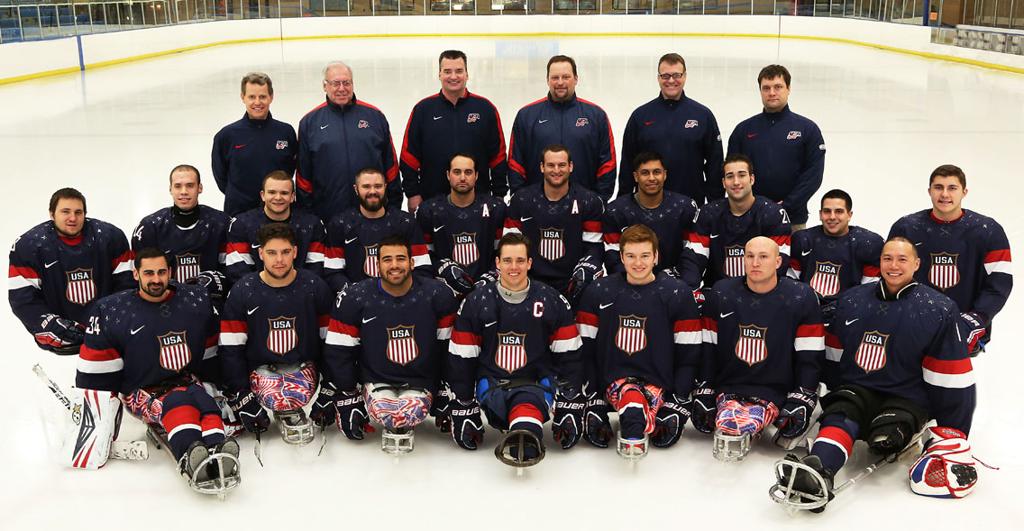 Photo of U.S. Paralympic Hockey Team courtesy Team USA.
Colorado skiers and skaters have already collected their share of precious metal at the 2014 Sochi Winter Olympics, and the state's contingent of paralympic athletes could add to that haul in early March.
The United States Olympic Committee has announced the roster for the March 7-16 Paralympic Winter Games in Sochi, including 14 competitors from Colorado. The 80-member team includes 18 athletes who have represented the U.S. as military veterans and active duty service members.
"It is a very exciting time for the Paralympic movement, and we are honored to announce the largest team we have ever sent to a Paralympic Winter Games," said USOC CEO Scott Blackmun. "I am confident that this group of talented athletes is going to represent our country well both on and off the ice and snow. With the expanded platform of television coverage provided in partnership with NBC, these athletes are not only going to captivate the country, but also inspire the next generation of athletes following in their footsteps."
Team USA's 80 athletes will compete in all five sports: alpine skiing (which includes snowboarding), biathlon, cross-country skiing, sled hockey and wheelchair curling.
While 50 athletes represented Team USA at the Vancouver 2010 Paralympic Winter Games, the roster has grown by 30 athletes in 2014. Notable increases came from the addition of 10 athletes competing in the debut of snowboard cross at the Paralympic Winter Games and from the Nordic skiing (biathlon and cross-country skiing) team tripling in size over the past four years.
The 2014 U.S. Paralympic Team features 32 returning Paralympians who have won a combined haul of 50 Paralympic medals. The roster includes seven-time Paralympian Allison Jones (Colorado Springs, Colo.), five-time Paralympian Chris Devlin-Young (Bethlehem, N.H.).
2014 U.S. Paralympic Team Notes
Defending gold medalist from Vancouver include alpine skiers Alana Nichols (Farmington, N.M.) and Stephani Victor (Park City, Utah), as well as eight returning members of gold-medal winning 2010 sled hockey team: Steve Cash (Overland, Mo.), Taylor Chace (Hampton Falls, N.H.), Nikko Landeros (Johnstown, Colo.), Josh Pauls (Green Brook, N.J.), Greg Shaw (Merritt Island, Fla.) and Andy Yohe (Bettendorf, Iowa)
Tatyana McFadden (Clarksville, Md.) is the most decorated athlete on the team with 10 Paralympic medals; however, none of them are from the Paralympic Winter Games. McFadden is making her winter sport debut in Nordic skiing after first gaining international fame in track & field.
Allison Jones (Colorado Springs, Colo.) has been on every U.S. Paralympic Team roster, summer or winter, since 2002 as a seven-time Paralympian and seven-time medalist in alpine skiing and cycling.
Six athletes from the London 2012 Paralympic Games have been named to the roster: Monica Bascio (Evergreen, Colo., cycling/Nordic skiing) Jones (cycling/alpine skiing), Oksana Masters (Louisville, Ky., rowing/Nordic skiing), McFadden (track & field/ Nordic skiing), Nichols (wheelchair basketball/alpine skiing), Aaron Pike (Park Rapids, Minn.,track & field/Nordic skiing)
Thirty-three states are represented, with Colorado home to the most athletes with the tally at 14.
Sled hockey's Brody Robyal (Northlake, Ill.) is the youngest athletes on the team at 15 years old. Alpine skier Mark Bathum (Mercer Island, Wash.) is the most senior member of the team at 55 years old.
Eighteen athletes balance training and competition schedules with raising a family; three athletes are mothers and 15 are fathers.