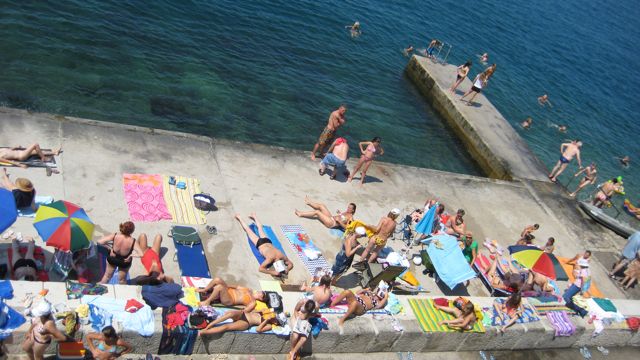 Got vacation time? Use it; it's good for you, says the U.S. Travel Association. bberwyn photo.
More than 40 percent of all Americans end the year with unused vacation time. According to recent research from Oxford Economics, it all adds up. The study found that Americans failed to use 429 million days of earned leave last year — just over three days per worker.
This unused leave cost the U.S. economy $160 billion in spending that could support 1.2 million jobs in multiple industries, ranging from retail to manufacturing to transportation, according to the U.S. Travel Association, which is starting an unprecedented effort to motivate American workers to use more of the paid time off they have earned.
"This is an issue that goes well beyond the travel industry," said U.S. Travel president and CEO Roger Dow. "A growing body of evidence shows that when we fail to take the time off we have earned, we are less productive and creative at work, we put stress on our relationships, and we undermine our personal health and well-being. Our initiative is simple and straightforward: Americans aren't using all the days off they are entitled to and we have to change that," Dow said.
The organizations presented its strategy in a new report, entitled "The Day Off Dividend." At the heart of the initiative is a research roadmap identifying original research opportunities to prove the benefits of time off from work to mental and physical health, education, careers, relationships and even healthy aging. The plan also relies on:
Unique partnerships outside of travel, including engaging companies in the automotive, energy and retail industries, and research and academic organizations, non-profits and private foundations;
Experts and opinion leaders to carry key research findings and core messages to audiences interested in health, business or family issues;
A comprehensive media campaign, including a robust social media presence, dynamic website, earned media and targeted advertising.
"Today's announcement marks the start of a long-term strategy to transform public perceptions so that personal time off is understood as a business investment, an economic necessity and a path to stronger families and better personal health."
The effort is the first of its kind for the travel industry and aims to achieve nothing short of a cultural shift among American workers and employers. Over the next year, U.S. Travel intends to spark a national discussion by releasing a series of original research reports examining why American workers fail to use the time off they have earned and the negative impacts this creates.
"We're excited by the opportunity to engage other industries in this important cause," Dow said. "It's time we begin to understand that taking the time off we have earned is essential if we are to maintain our country's high levels of productivity and innovation."
About Travel Effect
Travel Effect is a research-driven initiative to prove the benefits of taking time off to the American economy, businesses and individuals. For more information, visit www.traveleffect.com.