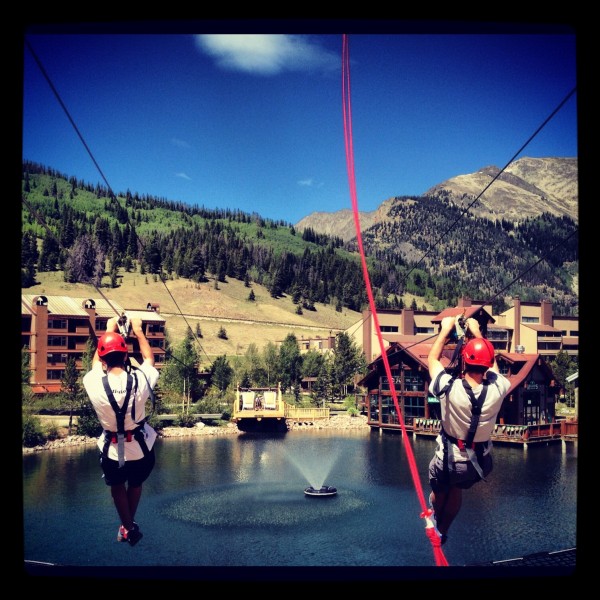 Can you harmonize with the natural environment while speeding down a mountain zip line? It may depend on exactly how fast you're going, according to the U.S. Forest Service, which is rolling out a new set of rules that will affect both summer and winter recreation at ski resorts like Copper Mountain, operating on public national forest system lands. One of the biggest goals is to boost opportunities for summer recreation, which could help solidify the resort's business and help drive revenue at associated businesses, including lodging at Copper Mountain.
A new law passed by Congress last year specifically permits certain new amenities, including zip lines, but banned water parks and swimming pools. The proposed regulationsrules would help Forest Service officials evaluate proposals put forth by ski resorts with an eye toward permitting proposals that foster appreciation of the outdoors. Other things that will likely be barred are merry-go-rounds, Ferris wheels, miniature train rides, and roller coasters.
Some of the changes would also affect winter activities. For example, skiers may see more advertising during special events, and down the road, uphill skiers and snowshoe hikers may have to pay for access.
The Forest Service taking public comment on the new rules through Dec. 2 at www.regulations.gov. Comments also may be submitted by mail to USDA Forest Service Ski Area Comments, Pacific Southwest Regional Office, 1323 Club Drive, Vallejo, CA 94592.
The rules would also encourage the development of new facilities in parts of the resort already developed for recreation and require that new developments harmonize with the natural environment by fitting in with the the ski area's existing vegetation and landscape. According to the proposed rules, new installations shouldn't require significant modifications to topography.
The agency also doesn't want to see a lot of new infrastructure development to support the new activities; instead, the proposals should emphasize the use of existing lifts and other facilities. The new rules would also formalize approval for temporary activities like concerts and weddings that "are not necessarily dependent on but could be enhanced by a National Forest setting."
Crucially, the new rules would spell out that ski areas couldn't seek an expansion of permit boundaries based on the additional seasonal activities: "permit area expansions must be based on needs related to snow sports rather than additional seasonal or year-round recreation.