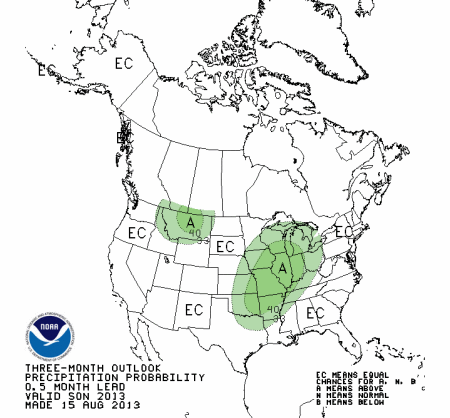 This time of year, weather forecasters — along with skiers and snowboarders — start eying the Pacific Ocean for clues as to what the coming winter may hold in store.
One of the biggest clues comes from a cycle of warmer-to-cooler sea surface temperatures in the central equatorial Pacific. The warmer phase, known as El Niño, can increase precipitation in California and the Southwest, and can enhance late winter and spring snowfall in Colorado. On the flip side, the cooler La Niña phase often drives a cool northwesterly flow into Colorado during the winter, setting up ideal conditions for steady powder days.
But this year, forecasters are struggling more than ever because the Pacific is hovering near a neutral state and is expected to stay there for at least the next few months. Into the winter, the odds are better for development of La Niña. According to NOAA's Climate Prediction Center, odds are for about average precipitation the next three months, with a tilt toward warmer than average temperatures.
"That's not necessarily bad news for you in western Colorado," said NOAA climate expert Klaus Wolter, who carefully studies the hemispheric patterns to help water managers — and ski resorts — make advance plans.
Three La Niña years in a row aren't unprecedented, but the scenario is unusual enough to create a few headaches for forecasters.
"During this extended neutral period, we start to look at other factors, including what's happening in the Atlantic," said Colorado State Climatologist Nolan Doesken. Fluctuations in Atlantic Basin pressure differences may play a bigger role in shaping Colorado's weather than previously believed, he added.
The strong La Niña of two years ago brought near-record snowfall to the Colorado mountains, but the encore appearance last season led to very dry conditions in early winter, then a surge of snowfall at the very end of the season, when many ski areas had already closed.
But for now, the outlook for this winter is still up in the air, so stay tuned and follow us on Twitter, where we'll keep you posted with updates on the winter weather outlook.