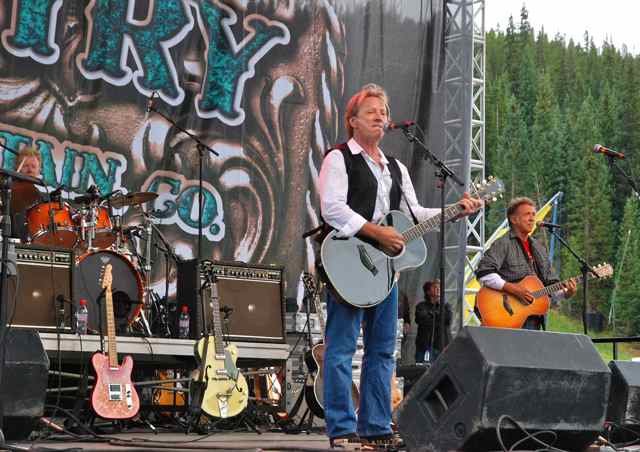 Guitar legends, yoga masters and fine wine lovers will all gather at Copper Mountain in the next few weeks, with a slew of festivals and special events scheduled during August. Along with mountain races and rides, Kenny Loggins will headline Copper Country at the end of the month, and there's even a Woodward day camp for kids during the last week of summer vacation. Here's the August lineup.

Copper Triangle, August 1 - 3
The Copper Triangle exemplifies cycling in the Colorado Rockies and works in partnership with the Davis Phinney Foundation to raise funds for Parkinsons' disease research. Graced with 78 miles of breathtaking scenery, gorgeous roads, and three challenging climbs (including Fremont Pass, Tennessee Pass, and Vail Pass), the Copper Triangle has long been considered one of Colorado's classic alpine road rides. Kick off the weekend with an extensive cycling expo and a free concert on Friday night with Fort Collins' favorite, Better than Bacon.

Ragnar Relay, August 7-8
This 200 mile journey begins at Copper Mountain and runs over and around the nearby mountains and even continues through the night. This Ragnar features is the highest elevation of all Ragnar races held throughout the country, over 10,000 feet at its highest. Come cheer these hand core runners as they start their journey here.

Guitar Town, August 8 - 10
Three free days of some of the best guitarists in the world make up the 10th Annual Guitar Town. This unique guitar lover's festival is complete with not only free live performances, but also guitar workshops, custom luthiers, musical activities just for the kids, and viewing of the documentary Turn It Up! showcasing the history of the electric guitar. Guitar Town veterans and musical legends Tommy Emmanuel, John Jorgenson, Sonny Landreth and Lee Roy Parnell grace the stage throughout the weekend. For more information visit CopperColorado.com.

Yoga on the Mountain, August 10 & 24
Donation-based on-mountain yoga classes by Prana Fitness are designed to make yoga practice accessible to everyone. Bring your own yoga mat and join us at 11,000 ft. for an all-ability level class, teamed with live music, and the breathtaking Ten Mile Range.

Warrior Dash, August 16
Mud, sweat and beer flood Copper Mountain Resort during the world's largest obstacle race series, Warrior Dash. Warriors challenge a 3 mile course over, through and under eleven crazy obstacles putting athleticism to the ultimate test. Finishers, covered from head to toe in mud, are greeted with turkey legs, beer steins and a post-race party in Burning Stones Plaza. 40oz. to Freedom kick off the weekend with a free concert on Friday, August 15 at 8:00 p.m.
30th Genuine Jazz and Wine, August 22 - 24
Relax in the fresh mountain air while sampling award-winning wine teamed with all-stars of the jazz scene, surely to delight your senses. American singer-songwriter and guitarist, Joan Osborne performs for free on Saturday, August 23 in Burning Stones Plaza. Additionally don't miss Rick Braun, Jonathon Butler and many others. To purchase tickets or more information visit CopperColorado.com.

Copper Country, August 29 - 31
A Colorado Labor Day festival tradition, Copper Country celebrates the best of the American spirit. Remarkable free live music by headliners Wynonna & The Big Noise and Kenny Loggins, a fine arts exhibition, and arts and crafts for the kids makes this a festival for any age. More information at CopperColorado.com.

Woodward August Day Camp, August 4 - 8 & 11 - 15
This week long camp is a great option for school-free youngsters pacing the front yard claiming boredom. August Day Camp includes unlimited access to the Woodward Barn and Summit County's only go-kart track for only $299 for the week. For more information please visit WoodwardCopper.com.