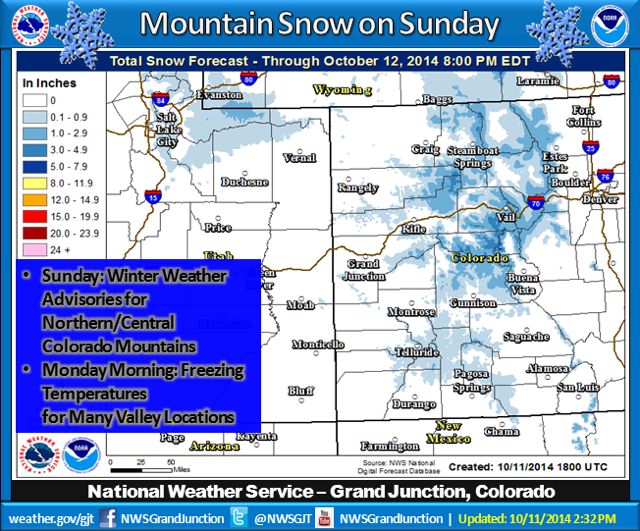 This year's strong El Niño will be a big player in shaping this year's winter weather, but it's not the only factor, federal weather experts said last week, dishing up a winter outlook that calls for above-normal precipitation across the southern tier of states, but drier-than-normal in the northern Rockies.
The southern Rockies of Colorado are in a sort of weather no-man's-land, where El Niño doesn't always have a strong and predictable signal. Past El Niños have seen both above-average and below-average snowfall in the state's mountains.
The outlook isn't a site-specific forecast, but shows what kind of regional patterns are favored in during El Niño conditions.
"A strong El Niño is in place and should exert a strong influence over our weather this winter," said Mike Halpert, deputy director, NOAA's Climate Prediction Center.
Other factors that often play a role in the winter weather include the Arctic Oscillation, which influences the number of arctic air masses that penetrate into the South and nor'easters on the East Coast, and the Madden-Julian Oscillation, which can impact the number of heavy rain storms in the Pacific Northwest.
Precipitation Outlook:
Wetter-than-average conditions most likely in the Southern Tier of the United States, from central and southern California, across Texas, to Florida, and up the East Coast to southern New England. Above-average precipitation is also favored in southeastern Alaska.
Drier-than-average conditions most likely for Hawaii, central and western Alaska, parts of the Pacific Northwest and northern Rockies, and for areas near the Great Lakes and Ohio Valley.
Above-average temperatures are favored across much of the West and the northern half of the contiguous United States. Temperatures are also favored to be above-average in Alaska and much of Hawaii. Below-average temperatures are most likely in the southern Plains and Southeast.
"While it is good news that drought improvement is predicted for California, one season of above-average rain and snow is unlikely to remove four years of drought," said Halpert. "California would need close to twice its normal rainfall to get out of drought and that's unlikely. "This seasonal outlook does not project where and when snowstorms may hit or provide total seasonal snowfall accumulations. Snow forecasts are dependent upon the strength and track of winter storms, which are generally not predictable more than a week in advance.