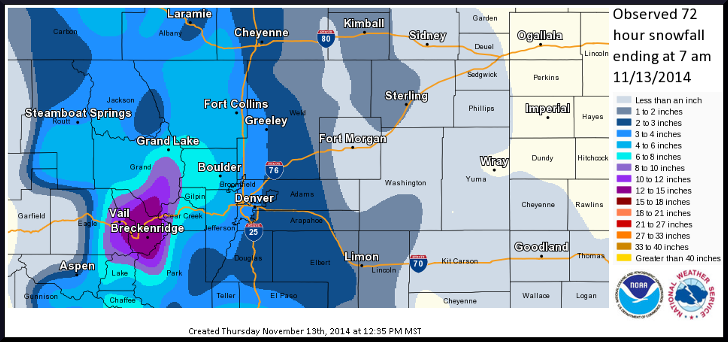 A mid-November storm took aim at Summit County ski resorts, delivering up to two feet of snow.
It's game on in Colorado, where most ski areas, including Copper Mountain, have picked up several feet of snow in the past few days, with another wave of heavy snow expected this weekend (Nov. 15-16). By the time all is said and done, most ski areas should be set to open significant amounts of terrain in time for Thanksgiving, so be thankful and make your holiday ski plans now.
Details: Copper is reporting three feet of snow for the month, 25 inches just in the past three days. The resort is currently operating four lifts serving just more than 100 acres of terrain. No word on new trails opening yet, but it shouldn't be long. Check the daily mountain report for updates and visit the snow stake cam if you like to watch snow piling up.
Keystone is reporting 28 inches of snow this week and 41 inches for the month, while Breckenridge reported seven inches overnight, so you can count on about three inches in reality. The resort also is reporting 40 inches in the past seven days. A-Basin is reporting 15 inches in the past seven days and already has top-to-bottom skiing served by the Black Mountain Express and Lenawee chairlifts.
All the snow is courtesy of a polar express that has been delivering record-cold air into the center of the country. The Colorado mountains have been just on the edge of that flow, perfectly positioned for heavy snow the past few days. The end of the storm will bring a day or two of very cold conditions Sunday and Monday, with highs perhaps just nudging out of the single digits. Temperatures will moderate by the middle of the week, bringing some fabulous early season conditions. We like to check out the Weather Underground blogs to keep up with all the interesting weather doings, and you can read more about the record early season cold here.
Make sure you stay safe on your way to and from Copper Mountain by reading our post on safe winter travel, and don't forget to follow us on Twitter for daily updates and pics!