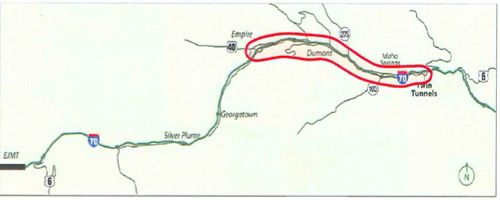 Colorado highway engineers say a new eastbound I-70 lane will be open for traffic sometime this winter, and CDOT wants input on how much commuting skiers might be willing to pay to shorten their trip back to the Front Range.
After a call-in meeting last week, the highway agency will field questions at a public meeting in Idaho Springs tonight (6-7:30 p.m., Idaho Springs Elks Lodge, 1600 Colorado Blvd., Idaho Springs).
CDOT, along with Clear Creek County officials, will be available to discuss and take public input on the proposed toll rates and discuss how to use the I-70 Mountain Express Lane. This lane will run for 13 miles along eastbound I-70 from Empire through the Veterans Memorial Tunnels in Idaho Springs.
The highway department eked the new lane out of the shoulder and median inch by inch during the past few construction seasons. The hope is that the new lane will cut congestion and prevent accidents, potentially helping to speed the trip back to Denver by as much as 30 minutes in a best-case scenario.
But CDOT says there's very little information on knowing how to price a short section of toll road that was built primarily for recreational users. The idea for now is to have a range of rates that would increase as demand increases during peak hours, anywhere from $3 to $30.
More details are available from this CDOT document: [url=https://www.codot.gov/programs/high-performance-transportation-enterprise-hpte/agenda-item-documents/i-70-mountain-express-lanes-cover.pdf]https://www.codot.gov/programs/high-performance-transportation-enterprise-hpte/agenda-item-documents/i-70-mountain-express-lanes-cover.pdf[/url]