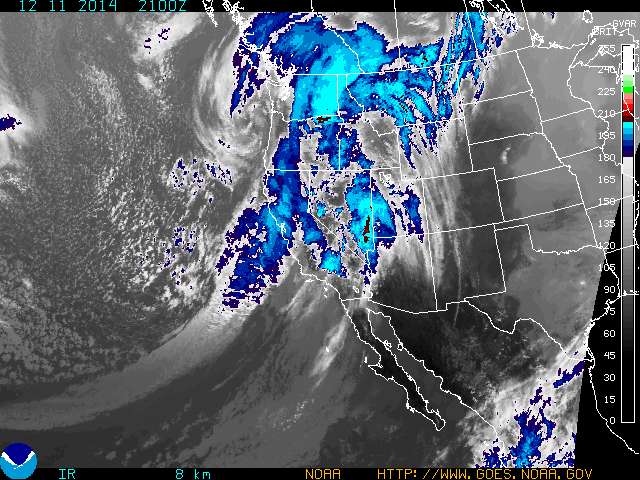 After a gangbusters November, Mother Nature turned off the snow machine in early December, but relief may be in sight if you're craving powder. A huge storm that's currently slamming the West Coast will move inland the next few days, bringing a chance of snowfall to the Colorado mountains.
Here's the latest western Colorado update from the National Weather Service, a Special Weather statement from the Grand Junction forecasters.
The Colorado Avalanche Information Center also offers zone forecasts which describe expected conditions at mountain elevations.
At this point, forecasters are not exactly bullish on a big powder dump. The storm is expected to fall apart, with most of the energy passing to the south, so the San Juan Mountains may see the best totals. At best, Copper Mountain and the rest of the Summit County resorts could see 3 to 6 inches of snow Saturday night, with showers lingering into Sunday.
More fair weather, with the chance of a couple of weak passing storms, is forecast for next week, with no big change in the overall pattern apparent for now. Although federal weather experts haven't officially proclaimed El Niño yet, the early winter weather doldrums fits the mold for Colorado, especially on the heels of a wet autumn.
In general, El Niño doesn't favor the state's northern mountains with snow until later in the season, especially in spring. But that doesn't mean it won't snow. Those dry spells could be interrupted anytime by a major storm sneaking in.
For the year to date, Copper has reported 94 inches of snow. The resort has more than 1,100 acres of terrain open, served by 10 lifts.