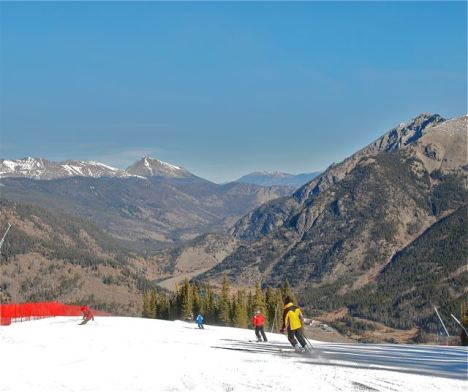 The start of the Colorado ski season is just a few weeks away, as both Loveland and Arapahoe Basin ski areas have started snowmaking operations for the year following an autumn storm that dropped several inches of snow at higher elevations and delivered cold overnight temperatures ideal for snowmaking.
Copper Mountain is scheduled to open Nov. 1, but A-Basin and Loveland are now engaged in their traditional "race to open," with weather conditions the next few weeks ultimately determining when skiers and snowboarders will be able to make the first turns of the year.
Both areas, located at high elevation near the Continental Divide, have opened as early as mid-October, but they aren't making any guarantees for this year.
"We want to get the place open as soon as we can. It is good for guests, employees, and the business," A-Basin chief Alan Henceroth wrote on his blog Saturday morning. "We will make snow every reasonable chance we get. Ideally, we like sustained wet bulb temps 28 F or colder. The colder the better. We don't know yet when we will open, but we will tell everyone as soon as we know."
Pictures of snowmaking at A-Basin are available here.
Loveland Ski Area also had a good first night of snowmaking, turning on the guns at 6 p.m. Friday and running them until 12 p.m. Saturday. Photos and video are available at the Loveland Ski Area website.
Copper Mountain generally starts making snow sometime in the first couple of weeks of October, starting high on the mountain near the Excelerator Chair, as well as in the terrain served by the Super Bee Chair, where ski racers from around the world will soon be training at the U.S. Ski Team Speed Center.
Follow us on Twitter and Facebook for real-time updates on the race to open, and browse our rental page to reserve your Copper Mountain ski vacation.