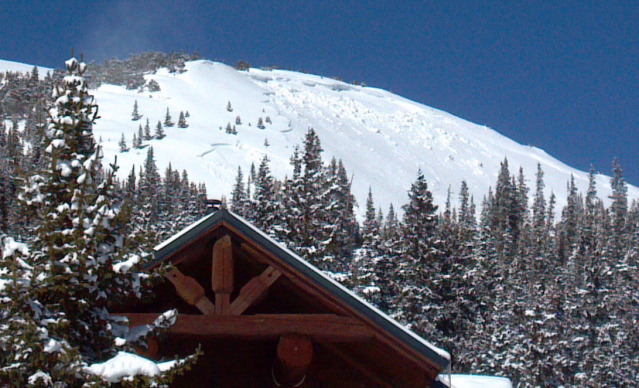 A Colorado Avalanche Information Center photo shows a thick slide near a Summit County backcountry hut.
FRISCO — A sketchy snow pack and a series of avalanches in and near ski areas has prompted a joint warning on rope-ducking from Summit County Sheriff John Minor and local ski resorts.
Ducking a rope is also against the law as the part of the Colorado the Ski Safety Act of 1979. "You can face charges for this," Minor said. "Don't be naïve about the risk you're taking, and don't put others in danger because of your bad decisions."
In one recent accident, a snowboarder ducked a rope within sight of numerous people and broke through a cornice that triggered a slide. The man was caught and issued a summons by the Summit County Sheriff's Office for skiing in a closed area.
"Copper Mountain Ski Patrol places the highest value on safety of our guests; terrain closures are in place to ensure that the guest experience remains a positive one," said Copper Mountain spokesperson Austyn Williams.
New snow the past 10 days has piled atop an unstable base, with avalanche experts warning that triggered slides are likely on many aspects and at most elevations.
"With significant storms and new snowfall, we know the temptation to duck ropes is high," said Breckenridge spokesperson Kristen Stewart. "However, terrain closures, whether in bounds or out of bounds, are all about guest safety. An area may be closed due to avalanche danger or other safety concerns," she said.

With spring break approaching, the sheriff and the resorts also emphasized that all skiers and snowboarders need to know and respect the Skier Safety Code:
Always stay in control, and be able to stop or avoid other people or objects.

People ahead of you have the right of way. It is your responsibility to avoid them
You must not stop where you obstruct a trail or are not visible from above.

Whenever starting downhill or merging into a trail, look uphill and yield to others.

Always use devices to help prevent runaway equipment.
Observe all posted signs and warnings. Keep off closed trails and out of closed areas.

Prior to using any lift, you must have the knowledge and ability to load, ride and unload safely.