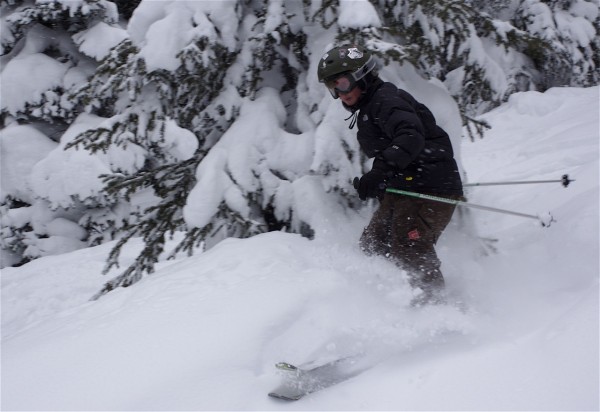 Copper Mountain will send off the old year and ring in the new with mountain style, including a New Years Eve rail session under the lights at Burning Stones Plaza, as well as a torchlight parade, a kids' glow-light parade, and the ever-popular fire dancers from 5 p.m. to 7 p.m. The traditional New Years Eve fireworks are set for 10 pm. at West Lake, and 2014 will start out with several fun ski-themed events throughout January.
Learn to Ski and Ride Month, Jan 1 – 31, 2014
With terrific snow conditions, it's the perfect time to get your friends involved in skiing or snowboarding. As part of the industry wide Learn to Ski and Ride Month, Copper will be offering some great deals for never-evers and beginner skiers and riders. All season long, beginners can access and learn for free on the Easy Rider carpet located in Center Village. Once basic skills are learned, a ticket for the Pitchfork chairlift is only $15, allowing beginners to master getting on and off the lift while perfecting turning and stopping. Copper Ski and Ride School features Youth Four Packs, a package of four lessons, with flexible dates and the option to use lessons for either Ski and Ride School group lessons or Woodward at Copper freestyle lessons. Woodward at Copper freestyle lessons progress any park skier or rider to gold, spend part of the day in the Barn and part of it on snow in Woodward's award-winning terrain parks. For an introductory experience for adults ages 16+, Copper Ski and Ride School offers adult group lessons for those who have never skied or ridden before.
Safety Fest, Jan. 18 – 20, 2014
January is National Ski Areas Association Safety Awareness Month and Copper Mountain celebrates with its annual award-winning Safety Fest Celebration from Jan 18 to 20. During Copper's Safety Fest, Burning Stones Plaza, located in Center Village, turns into Safety Village with tents featuring National Ski Patrol signing up guests for mountain sweeps. The Summit County Rescue Group will offer backcountry awareness and beacon training and Copper Mountain Ski Patrol will demonstrate how avalanche dogs are trained. Visit all Safety Village vendors to be entered in a daily raffle; prizes include helmets, lift tickets, season passes and more. Don't miss the Flight for Life helicopter landing on Saturday, Jan. 18, at 10 a.m. at Patrol Headquarters, located at the top of the Excelerator and Super Bee chairlifts. During the whole month of January guests are welcome to stop in Copper's Patrol Huts, located at the top of Excelerator and Timberline chairlifts, to meet patrollers, snuggle with avalanche dogs and enjoy a free mug of hot chocolate.
WinterBike, Jan. 18 – 19, 2014 Winner of NSAA's Most Creative Event in 2012, annual WinterBike returns to Copper Mountain on January 18 – 19, as part of the 2014 Leadville Winter Mountain Bike Race Series. WinterBike vendor village takes over Burning Stones Plaza on Saturday and Sunday, Jan. 18 – 19, with bike demos provided by Borealis, Boo Bikes, Reeb, Wilderness Sports, and Rebel Sports. The little ones kick off the excitement with LittleBike starting at 5 p.m., a short race around Burning Stones Plaza for the kids. WinterBike racers pedal out of Burning Stones Plaza at 6 p.m. and greeted with fireworks at the finish line in Burning Stones Plaza at 7:30 p.m.
For more information on special events during January, please visit www.coppercolorado.com and follow Copper Condos on Twitter for daily updates and photos. If you're ready to start planning a January ski trip, check out our Copper Mountain ski condos here.