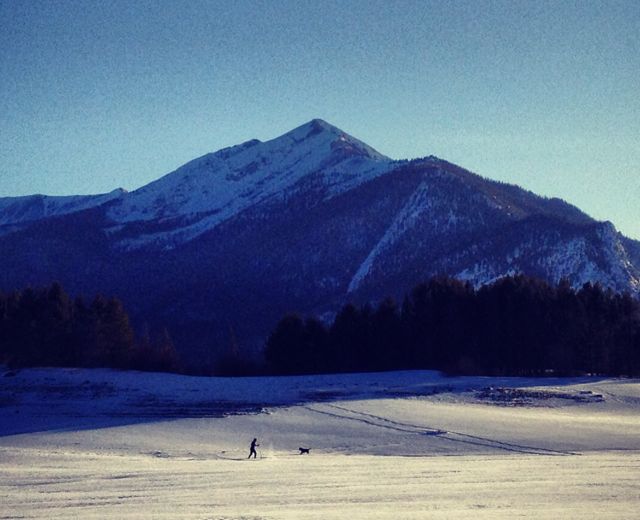 You already know that our ski-in, ski-out Copper Mountain condos provide slopeside access to some some of the best lift-served skiing in Colorado. But this coming winter season (2013-2014), the resort may see a Nordic resurgence, as SnowSports Industries America has decided to hold its Nordic on-snow demo program at the resort.
The trade association previously announced that its Alpine on-snow demo event would be at Copper, and last week, the organization's Nordic committee voted to extend the Nordic event to two days (Feb, 3-4, 2014), to be held in conjunction with the SIA On-Snow Demo/Ski-Ride Fest at Copper.
The trade group also sees the session as an opportunity to boost public interest in Nordic during an Olympic year. Copper Mountain has a long Nordic tradition, but the crosscountry skiing hasn't been emphasized in recent seasons.Summit County has several other Nordic venues, notably the Breckenridge and Frisco Nordic centers, making the area a worthwhile destination for skinny skiers. If you're ready to start planning a winter trip to Copper Mountain, let us help you find the best lodging Copper Mountain has to offer. Start by browsing our rentals page.
"SIA On-Snow Demo will cover all facets of the skiing and snowboarding industry including Nordic Skiing. Copper Mountain is working closely with SIA to develop a Nordic testing site, including 25k of Nordic trails currently offered to guests during the winter season, to keep the on-snow demo conveniently located all at Copper Mountain Resort," said Copper spokesperson Austyn Williams.
"Copper has the right combination of convenience, proximity and service to provide the best Nordic outdoor product testing experience for dealers and attendees," said Isaac Wilson, Nordic Product Category Manager for Amer Sports. "I am confident this venue will offer our customers both easy access and a great environment for testing Nordic product," Wilson added.

"This meeting is our chance to gather as a group and take some time to consider the year ahead and what we'd like to promote for our industry - events, programs, growing participation, we really cover it all in this meeting," commented Reese Brown, SIA's Nordic Director.
The group spent a significant amount of time discussing growing Nordic participation and expanding current research efforts. Other topics included the Winter Trails program, which offers children/adults free Nordic demos at venues throughout North America as well as the upcoming Winter Olympics and opportunities to promote Nordic activities to consumers in an Olympic year.
Follow Copper Condos on Twitter for updates on other Copper Mountain news.