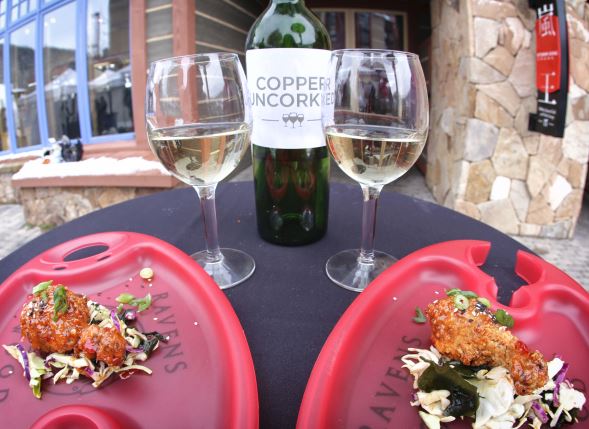 Copper Mountain is taking an unusual approach to a wine pairing event: Copper's pairing wines like Robert Mondavi Napa Merlot, Meomi Pinot Noir and Ruffino Moscato d'Asti with wings. Yes, wings.
Oh, but these aren't your typical bar food/Hooters wings. These are the most classic, the most divine, the most decorated (literally) wings you've ever had. And the best part: Seven Copper Mountain restaurants, plus Frisco's Whole Foods Market will participate in a friendly challenge to see which has the best wing recipe and wine pairing on Saturday, Feb. 20.
The wine and wings challenge runs from 3-5 p.m. Saturday, Feb. 20 at the base of Copper Mountain, at Burning Stones Plaza. Tickets are only available that day, beginning at 11 a.m.
And get a load of this: For only $25, you not only sample get to sample, but also vote for the "most savory and ingenious pairing." That means eight fine-cuisine style wings paired with eight glasses of wine (OK, so each wine sample is 2 oz., but let's multiply 8x2 … and add in the high altitude effect …).
Kids can join in on the wing fun (sans vino) for $12 for four wings. Guests can also pay a la carte, with $6 glasses of wine (these are more than 2 oz., obviously) or $5 for a single wing and 2 oz. wine pairing (ah, but how can you stop at just one?).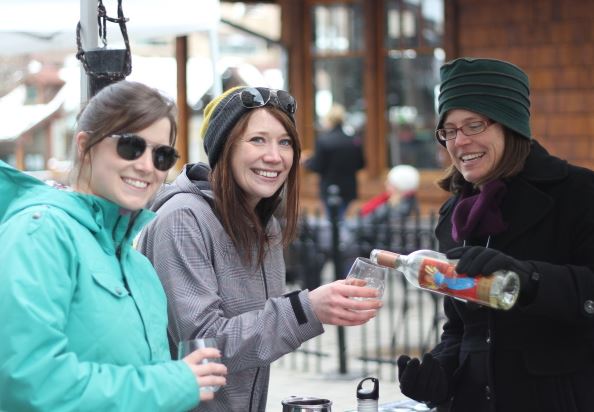 While you're sipping and savoring, a band known for its blazing hot performances, New Orleans Suspect, will amp up the energy. Some of the most seasoned and respected musicians from New Orleans make up the band, which adds a contemporary twist on the soulful city's traditional funk, rock and rhythm and blues.
At 4:45 p.m., the band will fade out as Copper announces the winners.
Here are Copper and Frisco's wing and wine masters:
• CB Grille presents a chipotle, ancho, beer-braised wing with roasted tomatillo sauce on a crispy corn tortilla with a braise reduction, paired with Robert Mondavi Napa Merlot. (You're beginning to get the "fancy" wing picture now, huh?)
• Endo's Adrenaline Café is revving it up with jalapeño cream cheese and bacon wrapped around its wings, with Sriracha orange marmalade. Pairing: Meomi Pinot Noir.
• Jack's Slopeside Bar & Grill is playing it smooth, sweet and a little spicy with buttermilk brined drummies, with a jalapeño cornmeal crust and honey glaze. Pairing: Saved Red Blend.
• Jill's Umbrella Bar is keeping a lid on its recipe, only disclosing it'll include garlic and be paired with Ruffino Prosecco.
• JJ's Tavern plans to up the ante against Jill's with its "crazy secret garnishes," but we know the wings will have a tropical flair, with pineapple-stuffed jerk wings. Pairing: Franciscan Equilibrium.
• Solitude Station chefs are going with Creole spices and dirty rice, shrimp and sausage jambalaya. Let the good times roll with its Robert Mondavi Private Select Heritage Crush.
• Storm King Lounge takes a Japanese approach with Sriracha Ginger Miso glaze, avocado snow, daikon kimchee beet salad, "dynamite and tobiko" paired with Ruffino Moscato d'Asti.
• Whole Foods Market in Frisco couldn't help but get in on the action with a citrus Thai Chile flair, complimented with crispy garlic and ginger with lemongrass coconut dipping sauce. Pairing: Gauthier Select Vineyards Riesling and Santa Lucia Highlands.
So, check out Copper Uncorked this weekend after a day of skiing, and find out what creativity can do to après. Just like New Orleans Suspect members describe the experience of their music as "taking a wild ride through (New Orleans') musical history in a brand new vehicle," Copper Uncorked takes the snobbery out of wine tasting by throwing in a beloved happy hour staple.