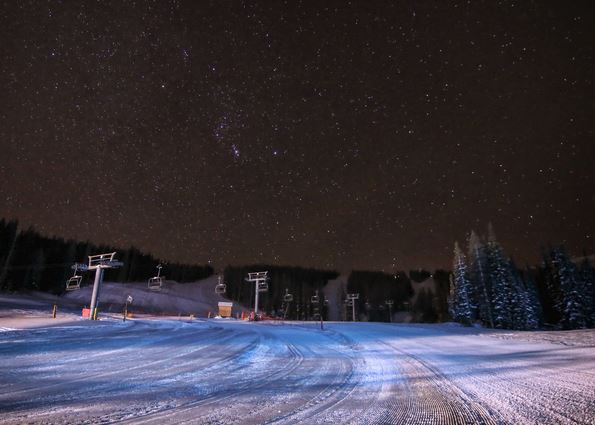 There's something magical about carving turns down freshly groomed blue runs, under the light of the moon — and a few nonintrusive headlamps — rather than huge glaring lights that can block out a sky crowded with stars.
Even if it ends up snowing Saturday, March 19, the night of Copper Mountain's Moonlight Dinner, watching fresh flakes through less light makes for a unique, and unforgettable experience.
The evening begins with a chairlift ride up the Excelerator, providing an bird's-eye view of alpenglow colors streaked across the sky.
Dress is casual, but Solitude Station isn't necessarily. While skiers and snowboarders ride the chairlift (wisely) dressed in ski attire, when they arrive at the artfully lit mid-station and walk downstairs, long tables covered in white linens, hot apple cider, and a free alcoholic drink from the essentially full bar await. In addition, a table rich with a cheese platter, filled with various artisan cheeses, fruit and crackers, welcome guests.
Coffee, soft drinks and a variety of herbal and green teas are complimentary.
Inside, plenty of room accommodates backpacks — in case you'd like to slide out of those hard-shell ski boots, or even change from ski clothes to something more comfortable. Greeters also offer disposable slippers if you don't want to bring cozy shoes or slippers.
Throughout the evening, an entertainer nonintrusively strums guitar and sings energizing songs as background music.
Copper's executive chef Dave Taladay serves up some of the most savory food at the extensive buffet. To avoid long lines, wait staff invite guests up table by table.
Taladay takes a tasty twist on salads with beets and greens: a selection of roasted golden and purple beets, grilled watermelon, baby arugula with strawberry balasamic dressing, and feta cheese, fennel and pistachios. Jalapeño cheddar corn bread and smoked pork green chili add spice to the selections.
Main courses — of which you can choose all, if you'd like — include roasted rack of elk with black cherry sage reduction, tender, all-natural chicken, cedar smoked salmon and blackened shrimp with gourmet mac n cheese.
With all the salads, entrees and sides like carrots and apple slaw and potato salad with bacon dressing, it's hard to save room for the "chocolate extravaganza dessert," but you really wanna make sure you do. It's delectable.
After a leisurely buffet, guides, who wear headlamps just in case you forgot yours (when you check in, Copper also has headlamps available), escort small groups down the mountain, one group at a time to ensure everyone stays safe and accounted for.
Each guide customizes the experience according to guests' wishes; one very advanced group may carve speedily, with a few safety stops at each plateau, while others may slowly snowplow or stop to stargaze.
Ski patrollers are also on hand to make sure everything goes smoothly, but Copper does request that guests possess intermediate skiing/riding abilities.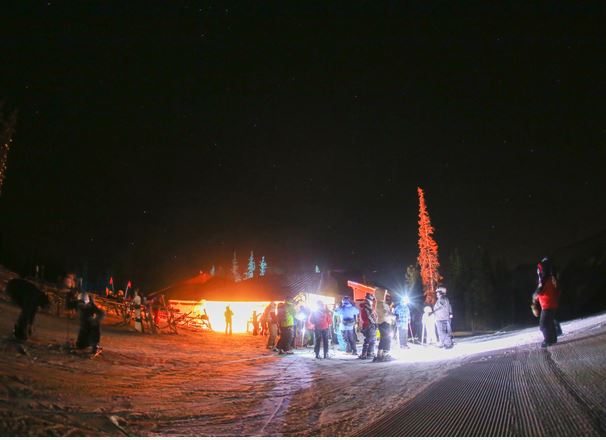 In addition to counting heads multiple times, guides provide an extra incentive to stay in your group (because there's plenty of space between the small amount of skiers and riders). The reward for checking in with your guide at the base: another free drink ticket, valid that evening at Endo's, JJ's or Storm King.
The $90 tickets are well worth the ski/ride and dine moonlight experience, and groups of four receive special discounts.
To make reservations for Copper Mountain's last Moonlight Dinner of the season Saturday, March 19, call 866-841-2481 or visit [url=http://www.coppercolorado.com]http://www.coppercolorado.com[/url] and click on Events Calendar under the Activities tab.