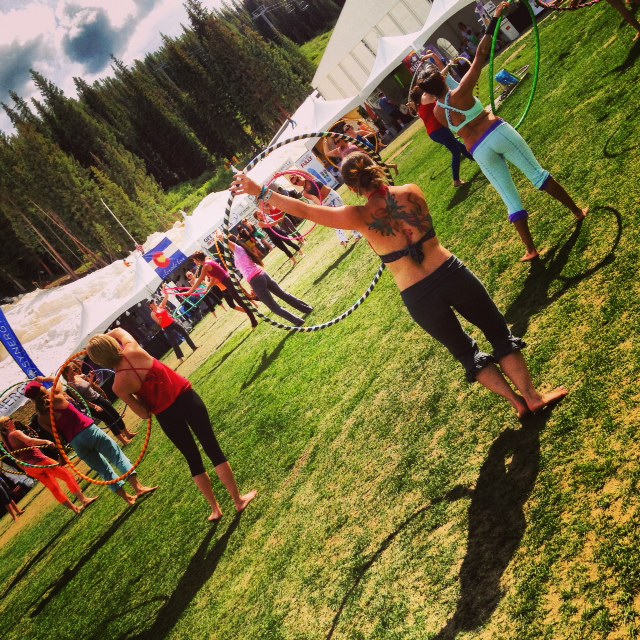 After the big early July Wanderlust yoga festival, Copper Mountain will be a little quieter, but not for long. The events schedule heats back up July 19 with a free Rob Drakin concert to kick of the Children's Hospital Courage Classic weekend (July 20-22), when cyclists tackle a 157 mile trek through Summit County. Individual and team fundraising efforts benefit the Children's Hospital Colorado.
The following weekend (July 26-28), Copper Mountain's base village will be transformed into an outdoor art bazaar for the annual Village Art Walk, where regional artists will showcase their fine arts and crafts in the spectacular open-air setting of the Colorado high country.
During the same weekend (July 27), hikers will take to the trails around Copper for another fundraiser — the Hike MS Colorado & Benefit Concert. In the third year of the fundraising event to help find a cure for MS, hikers can choose between a family oriented two-mile hike on a "green" route, or challenge themselves a bit more on the five-mile "blue" route, or the 10-mile black diamond trek, all on Copper's trail system.
After hiking, enjoy the free concert by Bop Skizzum, a band that gathers inspiration from every nook and cranny of the music world to cook up a tasty blend of fusion, including pop-rock, groove-based funk, dance and hip-hop influences.
Nearby Frisco will also be hopping at the height of the summer season, with cyclists in the Triple Bypass pedaling through town July 13.
On July 19, you can join in a free historic tour of Frisco, with guides explaining how the funky mining camp of yore became one of the Colorado's favorite family vacation destinations. Details are online at the Town of Frisco website.
More local history is presented weekly as part of the free lunchtime lecture series at Frisco's award-winning historic park. Upcoming talks will focus on mining, as well as the history of Native Americans in the Colorado high country. Click here for more information.
Every Tuesday night in July, starting at 5:30 p.m, is Family Fun Night at the Frisco Adventure Park, when the recreation facility on the Frisco Peninsula becomes an outdoor playground for young and old, including dual slalom racing in the BMX bike park and lawn games, followed by the 6:45 p.m. movie night.
And if you want to see home some locals spend a sunny afternoon, check out the action at the Frisco Disc Golf Course. There's league action every Tuesday night at 5:45 p.m. and even a full moon tournament starting 9:30 p.m. on July 19. Get all the disc golf info at the Town of Frisco website.
If you're coming up to enjoy summer activities at Copper and the rest of Summit County, let us help you find the best lodging Copper Mountain has to offer. Start by browsing our rentals page.