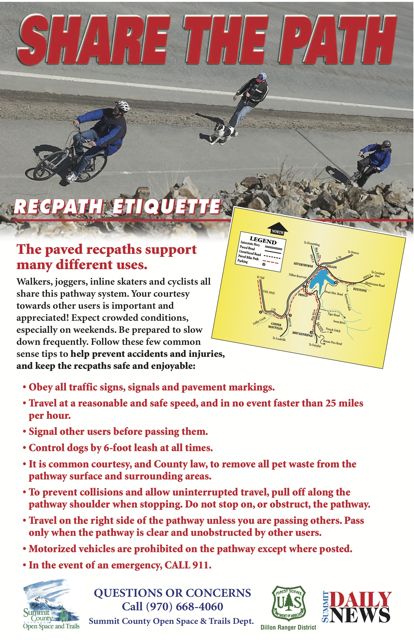 There's good reason that Copper Mountain Resort is a hub for summer cycling events, including classic rides like the Copper Triangle and Courage Classic. But you don't have to be part of an organized tour to enjoy the high country from the saddle of a two-wheeler.
From your base at one of our Copper Mountain condos, you have easy access to the heart of one of the most spectacular sections of bikepath anywhere in the country, extending from Frisco through Tenmile Canyon and up to 10,662-foot Vail Pass.
If you start with an uphill ride toward the pass, you can go just as far as you want (the altitude can take a toll) before turning around and coasting back down to Copper alongside burbling Tenmile Creek and through flower-flecked alpine meadows. If you're lucky, you may spot a moose or an elk in the willow wetlands along the stream.
Don't worry if you didn't bring your own bike. Frisco and Copper-based Rebel Sports offers bike rentals right at Copper Mountain, and they'll even include a free shuttle ride up to the top of Vail Pass with a bike rental, leaving you free to coast all the way back down.
If you ride the section between Copper and Frisco, you'll be following in the tracks, literally, of the historic railroad that served the high country mining camps around Copper Mountain. Especially on the weekends, this section of the trail can be quite crowded, so be prepared to share the trail with skateboarders and hikers. If you don't want to ride back up to Copper, catch the free Summit Stage bus in Frisco for a lift back to the resort.
There's also great downhill mountain biking at the ski area, where you can load your bike on to the American Eagle chairlift and ride trails like Elk Alley, A-Road and Redtail below B-Road. More information is available at the Village at Copper activities website.
A few more of our favorite rides in the area:
Dillon Reservoir Loop - This 18-mile ride, with 1,200 feet of vertical elevation gain is a Summit County classic. Almost the entire route is along a dedicated recpath, and a couple of years ago, a roadside bike lane was added to Swan Mountain Road for uphill traffic from Farmers Korner to Summit Cove. Most of the climbing is along the Swan Mountain section, while the rest of the route (Summit Cove-Dillon-Frisco-Farmers Korner) is mostly level with a few rolling hills.)
Peaks Trail - Intermediate and advanced mountain bikers will enjoy this 10-mile ride along the base of the Tenmile Range between Breckenridge and Frisco. The trail climbs in and out of numerous drainages, running mostly through lodgepole pine forestsSince the grade from Breckenridge toward Frisco is generally downhill, many people travel this direction and ride the free Summit Stage Bus back to Breckenridge. Visit this Forest Service website for more information.
Oro Grande Road - The road on the hillside between Dillon and Keystone offers some of the best views of Dillon Reservoir and the Tenmile Range. You can start this ride in Dillon and cycle all the way to the junction of Highway 6 and Swan Mountain Road, where you can get back on the paved bike path for the return ride to Dillon. More detailed info on this ride is available at this website.
Mineral Belt Trail - If you want to explore outside Summit County, Leadville's Mineral Belt Trail is just a short drive over Fremont Pass, south of Copper Mountain on Highway 91. The 11.6 mile trail is often much less crowded than Summit County's recpath, especially on weekends and passes numerous historic mining sites in Leadville's historic mining district, all the while with stunning views of Colorado's highest peak, Mt. Elbert.
Shrine Pass Road - Finally, if you're fully acclimated and ready for a challenge, you might want to consider the amazing ride over 11.2 mile Shrine Pass Road, from near Vail Pass to Red Cliff, in Eagle County. Specific trail information is available at this Forest Service website. From Vail Pass, the road climbs steeply for a few miles before topping out at Shrine Pass, and from there, it's almost all downhill through stunning wildflower meadows and shady aspen groves all the way to Red Cliff. Riding back is quite a challenge unless you're an experienced and well-conditioned cyclist, so you may want to consider arranging a car shuttle, and there are several companies that offer a shuttle service and guided tours of the route, including Vail-based Ski and Bike Valet.
If you're ready to plan your Copper Mountain vacation, let us help you find the perfect Copper Mountain Condo. Get started by browsing our selection of Copper Mountain lodging properties, and follow us on Twitter for daily updates and pictures.