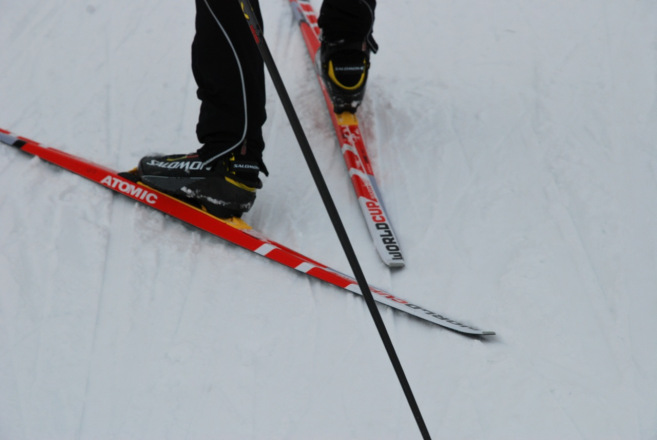 COPPER MOUNTAIN - After copious snow-dancing and muttered incantations, Ullr - the mythical Norse god of snow - has returned to Summit County, gracing the local mountains with plenty of fresh powder the past few days.
The old Norse god appreciates a good powder day as much as anyone, and he's pretty open-minded about how you enjoy it. But being a rootsy kind of guy, he is partial to taking his skinny skis out into the woods. Once you're away from the hustle and bustle of the village and the ski lifts, you can actually hear the snow rustle through the pine needles.
Summit County is well known for its alpine venues, but the area is also home to several Nordic crosscountry areas with about 50 miles of groomed trails among them, along with many more miles of primitive trails along old logging roads and flumes. Gliding on a pair of lightweight, springy track or skating skis add a whole new perspective to a ski trip.
Copper Mountain doesn't have a formal Nordic program anymore, but you'll still see people cruising around the golf course, using a classic kick-n-glide to cover some ground. After all, this has been the preferred way to get around in the snow since some prehistoric hunter figured that attaching slats to his feet was the best way to avoid being trampled by a herd of reindeer.
You won't find many reindeer near Copper, but if you head up the Summit County recpath from the western end of the resort, you could encounter an elk, and perhaps spot some elusive lynx tracks. The rolling alpine forests between Copper and Vail Pass are great habitat for the rare powder cat. Several lynx have taken up residence in the area.
Another popular spot for intermediate crosscounty skiers near Copper is Mayflower Gulch, up along Highway 91 toward Leadville. This great cirque in the west side of the Tenmile Range has a real high country feel to it, starting with a stretch through some giant spruce-fir stands, broad willow wetlands, and ending at treeline at the old Mayflower mining camp.
If you're feeling adventurous, continue over Fremont Pass and head toward Leadville, where the 11.6 mile Mineral Belt Trail loops around the historic mining town, past old mines and with views to Colorado's highest peaks in the Sawatch Range. Not all of the trail is groomed every day, but you can check the trail website for daily updates.
There's less wildlife, but more groomed trails (35K) at the Frisco Nordic Center where you can also enjoy 15K of snowshoe trails. The Frisco center is a great place to learn all about Nordic skiing from a team of skinny ski enthusiasts headed by former U.S. Olympic Nordic skier Matt Dayton. Along with a perfect learning area, the center holds workshops on waxing and other Nordic-related topics.
The Dayton family also operates the Breckenridge Nordic Center, a hub of crossountry activity, with nature tours, lessons and snowshoe treks through the pristine Cucmber Gulch nature preserve.
For some locals, the Gold Run Nordic Center, between Frisco and Breckenridge, offers the most Scandinavian-type experience in the area. Along with 25K of system trails, Gold Run is a jumping off point for an expansive network of adventurous trails in the Swan River drainage.
If you have any questions about Summit County Nordic skiing, send a Twitter message to @coppercondos or leave us a Facebook message. Check our last-minute condo rental deals if you're planning on coming up to sample the new snow in the next few days.