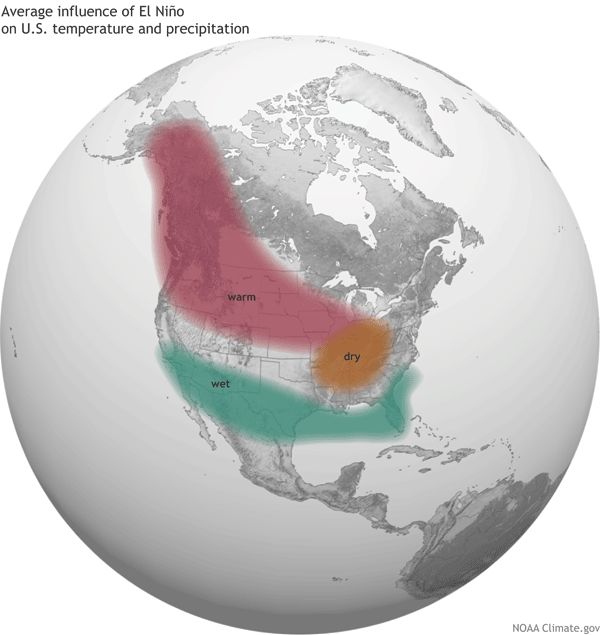 Climate experts say they aren't sure exactly what to expect with this year's strong El Niño — the first since the winter of 1997-98, when Colorado saw a decent snowfall season.
For now, NOAA's Climate Prediction Center is showing enhanced chances for above average precipitation for the next three months across Colorado, and the Farmers' Almanac winter outlook says it will be "bitter and snowy" in our region.
But since 1997, the global climate context has evolved, with shrinking Arctic sea ice and vastly reduced areas of spring snow cover in the northern hemisphere. How those factors may interact with El Niño isn't exactly clear yet, according to researchers with the World Meteorological Organization.
"The planet has changed a lot in 15 years," said David Carlson, Director of the WMO co-sponsored World Climate Research Programme. We are working on a different planet and we fully do not understand the new patterns emerging," Carlson said.
He said the 2015 El Niño is unique because of the unprecedented combination of the Equatorial influence of El Niño, and the Arctic influence of low sea ice and snow cover in place at the same time. And that could make it harder than ever to project impacts in Colorado, which doesn't show a strong El Niño signal to begin with.
"We have no precedent. Climate change is increasingly going to put us in this situation. We don't have a previous event like this," Carlson said.
The peak strength of this El Niño is expected between October 2015 to January 2016. Its impacts are already evident in some regions and will be more apparent for at least the next 4-8 months.
El Niño is one of the main drivers of the climate system. and contributes to extreme events like droughts and flooding in different parts of the world. Globally, it has a warming influence on average temperatures.
In Colorado, there have been winter snows during El Niños, but there have also been droughts. Some regional climate experts say there is a tendency toward more moisture in the fall and early winter, but that El Niño can also bring a split jet stream flow during the heart of the winter, leading to long warm and dry spells, sometimes punctuated by big and wet storms.
Strong El Niños can have big impacts to communities and the U.S. economy. There could be heavy winter rains across California, which could bring much needed moisture to a region devastated by drought. Even if above normal precipitation falls across California, one season of above-normal rain and snow is very unlikely to erase four years of drought.
Meanwhile, heavy rains in the southern half of the U.S. could lead to flooding causing widespread damage to towns and communities, lives and livelihoods. In addition, El Niño could elevate the risk for severe weather across the Southeast during winter. On the other hand, above-average late fall to winter temperatures across the northern tier of the U.S. might mean a milder winter and lower energy costs. It's important to understand that a strong El Niño only favors these impacts, but doesn't guarantee they will happen.