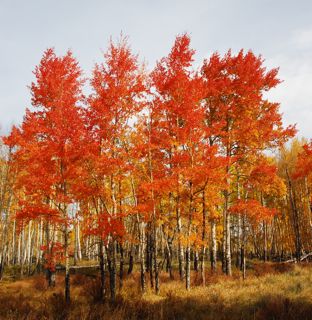 Summer is slip-sliding away in the Colorado high country, but there's still plenty of time to enjoy the mountains before the first flakes of winter start to fill the sky.
Once the big Labor Day festivities are over, Copper Mountain and the rest of Summit County go into the fall season. Some folks may get a little edgy with anticipation waiting for the ski season, but many locals know exactly how to savor the in-between time, enjoying two-for-one deals at local eateries and going for long hikes amidst colorful aspen trees.
Sure, the days are a bit shorter, but the summer thunderstorm season has died down, resulting in perfect, calm weather for mountain treks. As well, local streams and rivers have settled into a steady late-summer flow, making it the best time of the year to fish for trout.
At Copper, the post-summer season starts Sept. 6 with the Ragnar Relay, a long-distance running race crossing the Rockies between Copper, Breckenridge, Vail and Aspen. More upcoming events are posted at Copper Mountain's calendar.
Nearby Frisco will celebrate the changing seasons with what may be the earliest Oktoberfest on record, Aug. 30 through Sept. 1 at the Frisco Adventure Park. Longtime Oktoberfest host Andy Grogger once again is the master of ceremonies and his famed catering kitchen will provide traditional Austrian and Bavarian goodies like schnitzel and dumplings to go along with the tasty Kaltenberg beer.
Frisco's Fall Fest is set for Sept. 7 and this year features a harvest market, an art show and live music, with proceeds benefiting the Friends of the Dillon Ranger District. As part of the event, mountain runners will once again tackle Frisco's landmark peak in the Mt. Royal Hill Climb. More info at the Frisco events calendar.
The Oktoberfest season continues that same weekend at nearby Keystone, where Those Austrian Guys, an authentic Alpine band, will play polka tunes while bratwursts sizzle on outdoor grills. The Keystone Oktoberfest will feature locally brewed beers.
The following weekend, Sept. 13-15, Breckenridge shuts down part of Main Street for the most raucous Oktoberfest celebration in Summit County — as well as the only one serving beer from Munich, Germany, home of the original Oktoberfest.
A little later in the month, the lights go down for the 33d annual Breckenridge Festival of Film (Sept. 19-22), billed as Colorado's longest running film festival. Check the GoBreck calendar for more fall activities, including historic tours in the area.
Follow Copper Condos on Twitter for regular updates and links to new blog posts, and visit our Facebook page to see what our friends have to say about us!