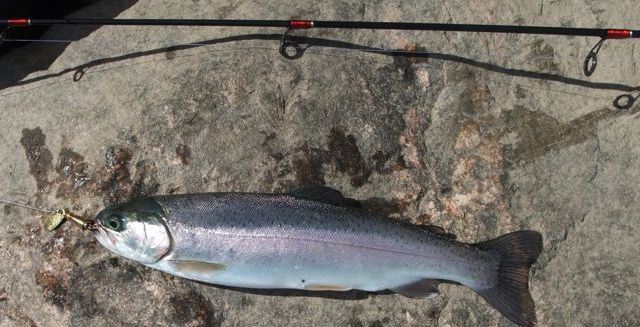 River flows are starting to drop and most Colorado reservoirs are nearly full, which means good fishing nearly everywhere you go.
But even though runoff has peaked, Colorado Parks and Wildlife is warning anglers to be wary of high flows when fishing along streams. In some areas, the heavy spring rains have soaked the ground which means the earth could give way beneath you.
In some cases, reservoirs are more than full, including popular Eleven Mile Reservoir, which is at 114 percent of capacity. Colorado Parks and Wildlife says the fishing is "very good," with boaters getting the most action at the west end of the lake, while shore anglers are having the best results during the late night hours and very early morning hours.
In the high country, some of the bigger streams are still running too high for good fishing, including around Aspen, where the Roaring Fork and Fryingpan rivers are both still flowing very high, muddying the waters.
But the warmer temperatures have spurred insect hatches at some lakes and reservoirs, which means the fish are rising. At Rifle Falls Reservoir, anglers are reporting catches of trout up to 19 inches, and shore fishing at Steamboat Lake is also reported as good.
Around Summit County, shore anglers are enjoying the high water level in Dillon Reservoir, with the best fishing in some of the shallower inlets and bays at the west end, around Frisco. There are also some great accessible fishing spots at Dillon Reservoir, notably at the Heaton Bay day use area, along Dillon Dam Road.
Local guides say the fishing has also been good in the Curtain ponds, alongside I-70 between Frisco and Copper Mountain, and, as usual, anglers are lining the shore at Officers Gulch Pond, in the same general area.
For a chance to catch some cutthroat trout, head south on Highway 91 toward Leadville and stop at Clinton Gulch Reservoir where the native trout should be hungry after a long winter. The best fishing is near the stream inlet at the far end of the reservoir, which requires a 45 minute hike, but it should be well worth it.
Finally, if you feel like fishing for prizes, check out the week-long tournament at Ridgway State Park, July 11-19, where smallmouth bass anglers will vie for more than $5,000 in prizes. There is no registration fee for the tournament and the contest is open to anyone who has a Colorado fishing license. The top prize will be a fishing boat complete with engine, trailer and life jackets.
Colorado Parks and Wildlife will be tagging 10 smallmouth bass of all sizes. Every smallmouth bass an angler harvests affords an opportunity to win a prize.
Check the full Colorado Parks and Wildlife Fishing report here, and learn more about our favorite fishing spots here.