Frisco, the closest town to Copper Mountain, continues festive events this month with a Community Bonfire, a Nordic race and costume contest, and a brewfest.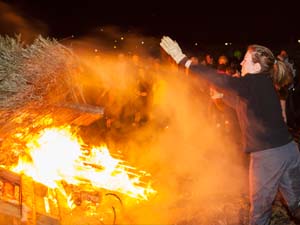 Community Bonfire
Since the end of Christmas, the town of Frisco has been collecting Christmas trees, as part of its Christmas tree recycling program. Through Saturday, Jan. 9, Frisco homeowners (and second homers, of course) can drop their trees off at the Frisco Bay Marina dirt lot at the corner of Highway 9 and Summit Boulevard. Just make sure the trees are stripped of garland, ornaments, lights and other décor.
Then, on Jan. 9, Frisco's Spontaneous Combustion bonfire ignites. At 6 p.m., a community bonfire brings together Frisco residents and Summit County visitors, to share in camaraderie, as well as food and beverages (alcoholic and non-alcoholic). Fireworks cap off the bright night, at 8 p.m.
46th Annual Frisco Gold Rush
For 46 years in Frisco, classic cross-country skiers and skate-skiers have been racing in various length courses, ranging from a 3k Fun Ski to a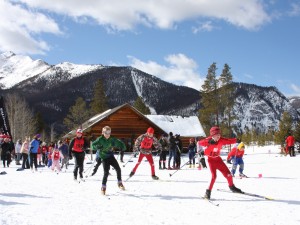 20k Skate Ski and a 10k for both classic and skate skiers. Any age, or ability, can participate in the races.
The Frisco Gold Rush Nordic ski race on Saturday, Jan. 9 is the longest-running Nordic event in Colorado.
All 20k and 10k racers receive a pair of Frisco Gold Rush socks. These babies are not to be missed: we're talking warm, mid-calf, black socks, with a tasteful dash of yellow in the "Frisco Gold Rush" stitching at the top.
In addition, the top three male and female winners win prizes — plus racers can win first place prizes in their age categories (19 and under, 20-29, 30-39, 40-49, 50-59, 60-69 and 70+).
The post-race party includes refreshments and giveaways at the Frisco Nordic Center. Registration fees for adults are $40 for the 20k; $35 for the 10k; and $20 for the 3k, while kids' costs are $5 less for each event. You can preregister at www.activityreg.com or call the Frisco Adventure Park at 970-668-2558 (or stop by, at 621 Recreation Way; the entrance is at the Frisco Adventure Center).
Both a portion of food and beverage purchases at the Community Bonfire and registration fees benefit Summit County Nordic Skiing. The club trains kids nearly year-round and has produced some of the state's best Nordic skiers. It's just one reason raising kids in Summit County is so rewarding. Ski teams like Summit County Nordic Skiing, as well as other sport outlets, provide coaches that not only promote athletic ability and fitness, but also self-esteem, team spirit, a sense of responsibility and resilience.
Inaugural Frisco BrewSki
If you're not that serious about cross-country ski racing and prefer to raise a pint after a couple hours on skis, then the Inaugural Frisco BrewSki fest may just be for you.
On Saturday, January 23, 2016, this new event combines a two-hour cross-country ski tour (no rushing involved on these groomed trails through the forest) from 2-4 p.m. at the Frisco Adventure Park Day Lodge, followed by an after party in the lodge from 4-6 p.m.
This non-race environment allows people to form teams and friendships with Frisco locals and visitors.
The trails range from flat to decent-sized hills, but you can choose your own adventure. You can also ski as much or as little as you want in this event. Beer samples and snacks are provided along the suggested route.
Speed is not a factor in winning prizes, but costumes are. Prizes will be given for best costume, toughest costume to ski in, and more. Plus, there will be a few other exciting surprises throughout the afternoon, including a dance-off. Each team is eligible to win door prizes from New Belgium Brewing. And, each participant will go home with a surprise commemorative item.
To register, form a team of 2 to 4 people and devise a clever team name. Early registration is $15 for adults and $10 for kids (this is a family-friendly event, and there will be snacks and non-alcoholic beverages for the kids). Register by calling 970-668-2558. After Jan. 22, the price goes up $5, but you can register the day of the race.
New Belgium will release its newest beer at this event — the Citradelic IPA — so don't miss out.
Ski Mountaineering Race
If you miss out on the Frisco Gold Rush, or simply want more, sign up for the Ski Mountaineering Race at 6:30 p.m. Jan. 27 through the Frisco Adventure Park. The format includes circuit laps around the Frisco Tubing Hill, Frisco Bike Park and the Ski and Ride Hill.
All abilities are welcome, but you need to have your own equipment, or rent it. Registration cost is $15, and though you won't receive an official prize if you win, you may be the lucky recipient of prize drawings at the post-race giveaway in the Frisco Day Lodge. Call the lodge to register, at 970-668-2558.
If you Nordic ski, or ever wanted to, this is the most fun month to do it. And, if you're not into skinny skis, the town of Frisco always offers plenty of other adventure, from boutique and second-hand stores, to breweries and delicious restaurants.