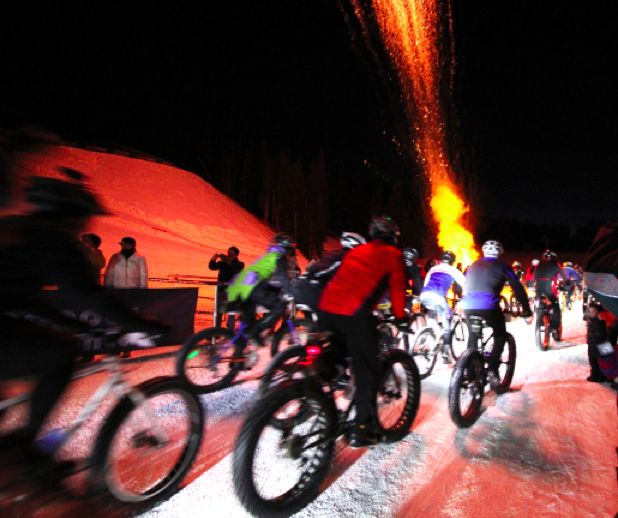 Photo courtesy Copper Mountain/Tripp Fay
As much as we love to ski here in the Colorado high country, we don't like to give up our other pursuits just because it's winter. So to adapt, some die-hard cyclists invented "fat bikes," featuring big balloon tires and other specialized components that make snow-biking a breeze, even on icy roads.
If you're curious about how and why some folks continue riding their two-wheelers even in the coldest season, be sure to to check Copper Mountain's 3d annual WinterBike event coming up Jan. 18-19.
WinterBike kicks off at 6 p.m. in Center Village, as racers careen around the resort and mountain in a 10-mile race through snowy obstacles, finishing with a fireworks display at the Burning Stones Plaza at 7 p.m. The race is the first in the Leadville Winter Mountain Bike Series and cost for entry is $20 per rider. All proceeds from the race goes towards Cloud City Wheelers advocacy efforts.
Bike rentals for the race are available and the event is family friendly, with a free kids-only fun ride at 5 p.m. (11 and under).
Registration is available day-of only in West Lake Overlook from 4 - 5:45 p.m. Check out what winter bike riding is all about with "fat" bike demos provided by Borealis, Boo Bikes, Reeb, Wilderness Sports and Rebel Sports available all day Saturday and Sunday, Jan. 18 – 19. You can also watch a video of a previous WinterBike Race at Copper at this YouTube link.
Here's the schedule:
Saturday, January 18th
9:00am - 4:30pm - Fat bike demos in Center Village
4:00pm - Registration Begins in Center Village (Registration will be onsite only)
5:00pm - Little Bike Race Begins (sorry adults, this is for the little ones)
5:50pm - Safety briefing and course information for participants
6:00pm - Race Begins
7:00pm - Free Fireworks in Center Village
7:45pm - After party begins at Incline.
Sunday, January 19th
9:00am - 4:30pm - Fat bike demo in Center Village