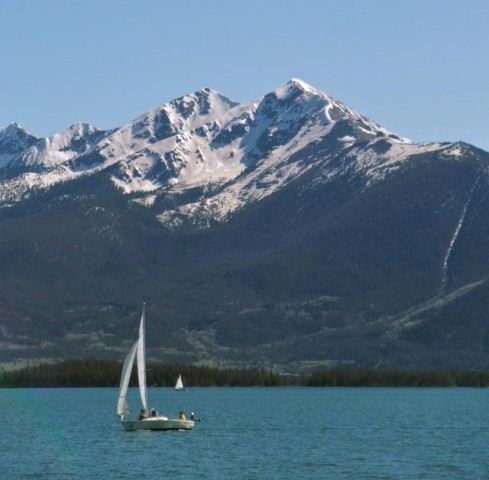 Copper Mountain may be best known for winter skiing and snowboarding, but for a few short months each year during the warm season, summer sports dominate. And while hiking and mountain biking often take center stage, there is a surprising variety of water sports. Here's a quick guide to getting wet in the Colorado high country.
Sailing — Dillon Reservoir is sometimes called the Crown Jewel of Summit County, and for good reason. The sparkling blue waters call out to sailors, paddlers and anglers, and two marinas (Frisco and Dillon) provide access to a wide range of water sports. Dillon has a full-service sailing school program, offered through the Dillon Yacht Club that can even get you certified by the American Sailing Association.
Paddleboarding — One of the newest water sports, stand-up paddleboarding is a great way to enjoy the calm, shallow waters at the edge of Dillon Reservoir. Paddleboarders ride a big surfboard-like craft, using a long-handled oar to skim across the water. You can try it for the first time just a short walk away from one of our Copper Mountain Condos by renting a board at Westlake, the small pond in the center of Copper Mountain Village. You can book stand-up paddleboarding trips through the Copper Mountain Adventure Desk. Once you've mastered the calm water of the reservoir, challenge yourself with stand-up paddling along the Upper Colorado River, where Gore Range Expeditions offers lessons and guided trips in the spectacular Colorado River Country around Rancho del Rio and State Bridge Lodge.
Kayaking & Canoeing — For flatwater kayaking, there's no better place to start than the Frisco Marina. From the docks, it's just a short paddle to peacefully sheltered coves and islands where you might spot a deer wading across the shallow water, or osprey diving for trout. The marina even offers guided tours through Kayak Lake Dillon.
Whitewater — Rafting and kayaking along Colorado's spectacular mountain rivers is one of the most popular activities in the high country. The whitewater kayak season in Summit County may be short, but it's always thrilling. And even when the local streams start to calm down, there are other venues nearby for a splashy ride through the rapids. Just a few miles from Copper, Ten Mile Creek Kayaks in Frisco is a full-service outfitter offering kayaking demos, lessons and rentals. And of course, there are numerous outfitters offering rafting trips on local and regional streams.
Rowing — For the past few years, Summit County has had its own rowing club, formed as a nonprofit organization to promote the classic and beatiful sport. If you're a water enthusiast, you'll appreciate how the sleek sculling vessels slice through the glassy waters of Frisco Bay. Visit the Frisco Rowing Center online for more information.
Pontooning — Sometimes, instead of paddling, rowing or sailing, you just want to kick back, enjoy a cold beer or coke and enjoy the view. Summit County's two marinas have got you covered for that, too. You can rent pontoon boats, popularly known as party barges, and take your friends out for an evening barbecue on the middle of Dillon Reservoir, surrounded by majestic 13,000-foot peaks. Check this Frisco Marina webpage for info. And if you want to combine cycling with a cruise across the reservoir, check out the cool watertaxi service running from Frisco to Dillon and back.
And for the little ones in the family, don't forget about the bumper boats in Copper Mountain's Westlake pond, where youngsters can float about on their own, riding through the spray of the pond's fountain.
Read the rest of our Copper Condos Blog for more great information on summer and winter activities and follow us on Twitter for daily updates on the latest at Copper Mountain.