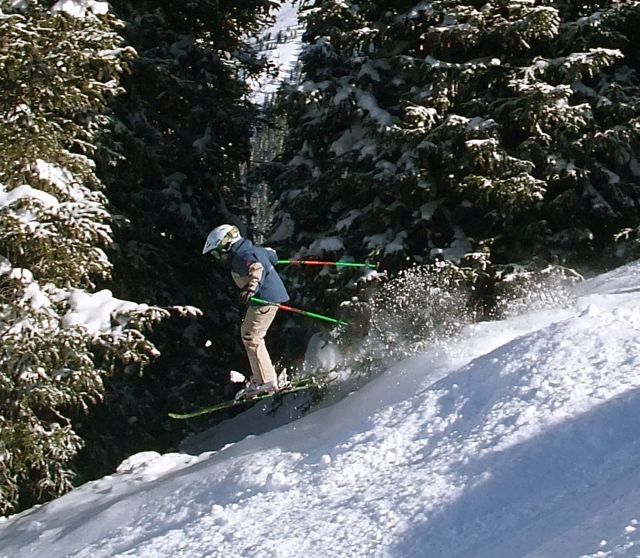 Summit County residents and visitors will have shorter rides to the slopes this season on the Summit Stage, thanks to new morning express routes. The new routes provide service to Keystone and Breckenridge with fewer local stops along the way, shaving off as much as 15 minutes of travel time, relative to the standard routes.
Buses on the express routes run once every morning, seven days a week, from Silverthorne to Keystone and from Silverthorne to Breckenridge via Frisco. The express routes will launch on Nov. 23, in concert with the Summit Stage's system-wide winter schedule.
"We're excited to give our riders a more convenient, efficient way to get to the ski areas," said Summit Stage director Jim Andrew said. "We've designed these routes to drop you off at the base areas right about the time the lifts start turning, so you can maximize the amount of time you spend skiing and riding."
The Breckenridge Express departs Silverthorne Station at 8:10 a.m., stops at Frisco Station at 8:22 a.m., School Road at 8:24 a.m., Granite Street at 8:27 a.m., arriving at Breckenridge Station at 8:50 a.m.
The Keystone Express departs Ptarmigan at 8:35 a.m., stops at Silverthorne Station at 8:47 a.m., Summit Place at 8:49 a.m., Lake Dillon Drive at 8:54 a.m., Lake Dillon Fire-Rescue at 8:55 a.m., arriving at River Run in Keystone at 9:07 a.m.
"The Keystone Express is going to be particularly great for visitors staying in the hotels in Silverthorne near the I-70 exit," Andrew said. "They can get to Keystone in one straight shot, rather than having to change buses at Silverthorne Station."
As part of the Stage's switch to winter service on Nov. 23, the Swan Mountain Flyer will resume, providing hourly all-day service between Breckenridge, Keystone and Arapahoe Basin. The Flyer also runs in the evenings on dates that Keystone offers night skiing. Daytime buses on the Copper Mountain route will increase in frequency, running every 30 minutes rather than hourly.
New rush-hour buses provide more frequent morning service on the Silverthorne Loop, Wildernest Loop and Copper Mountain routes, with departures at 7:15 a.m., 7:45 a.m., and 8:15 a.m., respectively.
The Lake County Link, which provides service from Leadville to Frisco, is offering new earlier departures. The early bus departs from the Leadville Kum & Go at 5:50 a.m., and the later bus departs at 7:20 a.m.
"We moved up the departure times to better ensure that riders can still make connections in Frisco when buses are slowed down by inclement weather between Leadville and Summit County," Andrew said.
The Lake County Link will also start serving Colorado Mountain College's Leadville campus. The morning bus to Summit County will stop at CMC Leadville at 7:10 a.m. Afternoon service departs Frisco at 4 p.m., stops at Copper Mountain at 4:20 p.m. and arrives at CMC at 5:05 p.m.
The Summit Stage is adding a new stop to the Breckenridge-Frisco route: The Golf Course stop will allow passengers to get on and off at the intersection of Tiger Road and Highway 9.
For more details on winter routes and schedules, visit www.summitstage.com.