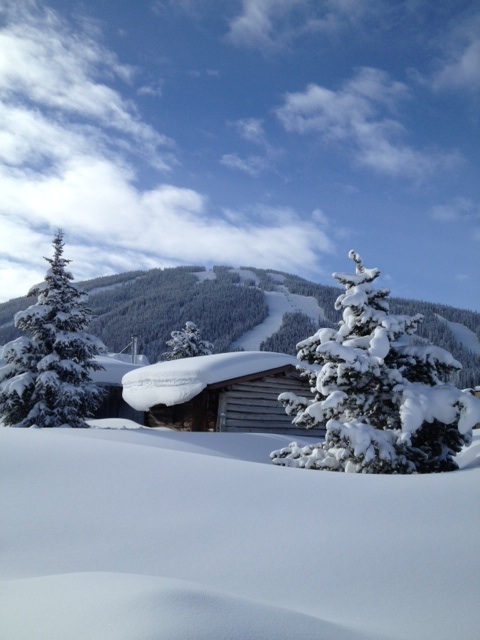 Alpine skiers enthusiastically greeted the near-record snowfall at Copper Mountain this season, but Nordic skiers are also quietly rejoicing, reporting some of the best conditions in years at local crosscountry centers in Breckenridge and Frisco.
But did you know that Summit County is also a hotbed for ski touring? If you're a little fuzzy on the concept, a ski tour means grabbing a daypack and using a free-heel set-up to efficiently ski uphill and over level ground.
Spring is the best time for ski touring, because the days are long and the snow has had a chance to settle, melt and refreeze, which means that, in many areas, you'll be skiing right on top instead of floundering in knee-deep snow.
But you have time it right. Early morning, the crust will be very hard (unless there's some new snow). Between 10 a.m. and 1 p.m. the surface softens, making for perfect ski conditions. By 2 p.m. to 3 p.m. some sunny spots will probably be quite soft, so the going could get tough.
And the daypack should be loaded with salami, a hunk of cheese and a chocolate bar (along with water and extra warm clothes). If you're feeling ambitious, pack a Sterno stove, a small espresso maker and a vessel of chili, like my Dad used to do. Think of it as winter hiking, and snowshoes are allowed, too!
If you have your sunscreen, sunglasses and a map, you're ready to explore, and there are plenty of places to go without worrying about avalanche danger. We'll give a shout-out to a few spots, but your best bet for winter trail info is at the White River National Forest website, or you can call or visit the local Forest Service office.
Dillon Reservoir: In good snow years like this, the summer recpath becomes a well-used, informal winter trail, with snowshoe and ski tracks. There are several trailheads along the Dillon Dam Road, and the area around the Blue River Inlet, near Farmer's Corner, doesn't see much winter traffic. Along with the main recpath trails, you'll find byways that wander down to hidden coves and groves of pines along the shore of the reservoir. Learn more about recreating around the reservoir and download maps here.
Swan Mountain Road: This local "shortcut" between Breckenridge and Keystone has some great access for ski touring, with killer views of most of Summit County. There are not a lot of winter access points, but the large trailhead at the Windy Point turnout is a centrally located starting point to explore the area.
Vail Pass: For a more alpine feel, you can drive west from Copper Mountain to Vail Pass, where the Forest Service partners with other groups to manage several thousand acres of backcountry for snowmobiliing, winter hiking and crosscountry skiing. It costs $6 per person per day to use the Vail Pass Winter Recreation Area, but the trails are marked, there are maps available and rangers keep an eye on the area, keeping skiers and snowmobiles separate. Some of the trails here have great views of Copper Mountain, and you can also access some of Summit County's backcountry ski huts from this trailhead.
Golden Horseshoe: In between Frisco and Breckenridge, local and federal planners have created a wonderful ski touring arena, with a web of winter trails that criss-cross some of the most historic mining grounds in Colorado. Long-range plans include more trail development, along with some warming huts in a giant crosscountry area that would be similar to venues in the Scandinavia. But for now, it still has a quiet backcountry feel. Learn more about the Golden Horseshoe here.
If you visit any of these spots with your four-legged pal, please take the right precautions. Several unwanted encounters between pets and wildlife in Colorado have ended poorly this winter. Read this information to be a responsible pet owner.
Start planning your spring ski adventure by browsing some of the great late-season deals at our Copper Mountain condos, and be sure to follow us on Twitter for daily updates.