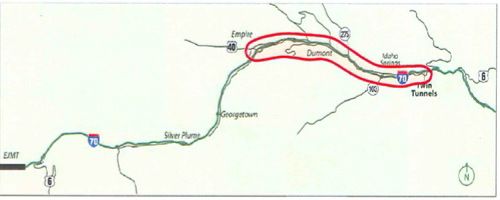 I-70, Colorado's much maligned Main Stree to the Mountains, may get more federal love in coming years after the House passed a transportation funding bill that names the highway from Denver to Salt Lake City as a Corridor of High Priority.
The designation means I-70 will now be eligible for certain federal funding streams to help with maintenance and improvement. High-priority corridors are given preferential consideration when applying for discretionary grant programs like the Transportation Investment Generating Economic Recovery (TIGER) and newly established Nationally Significant Freight and Highway Projects, as well as financing opportunities, like those established under the Transportation Infrastructure and Financing Act (TIFIA).
"Anyone who has sat in traffic on a Sunday afternoon on I-70 East knows that highway is in need of major improvements," said U.S. Rep. Jared Polis, a Boulder democrat who frequently travels I-70 to visit with constituents in the high country. "Traffic along I-70 has far outpaced our ability to expand and maintain it, and at this point Colorado can't do it alone. This designation will give expansion and maintenance projects along I-70 broader, more competitive access to federal funds – which is a critical first step in tackling the highway's major challenges and improving quality of life, regional tourism, and national commerce."
"On behalf of the Colorado Department of Transportation (CDOT), I want to thank Congressman Polis for his amendment to designate Interstate 70 between Denver, Colorado and Salt Lake City, Utah as a High Priority Corridor," said CDOT executive director Shailen Bhatt. This amendment rightfully recognizes what the people of Colorado already know, that Interstate 70 is not only important regionally, but nationally as well."
"The I-70 Coalition appreciates the leadership of Representative Polis and the support of the Colorado delegation to designate Interstate 70 as a Corridor of High Priority," said Margaret Bowes, director of the I-70 Coalition. "This designation recognizes the importance of the I-70 Mountain Corridor as the economic engine of Colorado's tourism and outdoor recreation sector. I-70 is the state's only continuous east-west interstate, serves as a 'main street' for many mountain communities, and is a critical regional corridor providing access to some of this country's greatest outdoor amenities."