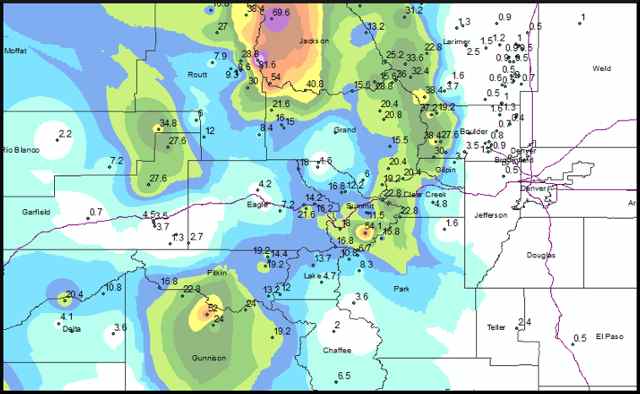 A Feb. 6 to Feb. 10 snowstorm delivered impressive snowfall totals in Colorado, including more than 80 inches at the Tower SNOTEL site in the northern part of the state.
After a pair of powerful Pacific storms punched through the Colorado Rockies in late January and early February, some locals are asking if snowfall is on a record-setting pace for the season.
So far, seasonal totals are well above average, with 231 inches to-date at Copper Mountain, but still below all-time Summit County snowfall records. But January's snowfall was nothing to sneeze at, according to veteran Breckenridge weather-watcher Rick Bly, who has been tracking precipitation for the National Weather Service in his backyard for several decades.
According to Bly's measurements, January 2014 was the third-snowiest on record, just behind 1899 and 1996. So far for the season, every month since October has delivered above-average snowfall, Bly said.
Along with Bly's manual measurements, weather experts also track Colorado snowfall through a widespread network of automated sensors, called SNOTEL sites. From this year's data, it appears that Copper precipitation is on par with the totals Bly reported from Breckenridge. For the season to-date, total snowfall ranks in the top five seasons.
The SNOTEL station at Copper Mountain sits at 10,550 feet and has been delivering data since 1978. You can get a wealth of information about snowfall in the area by clicking on the links within the site, including cool graphs showing how this year's precipitation measures up to the average and to previous winters.
Another graph traces day-to-day snow depth and moisture content, while yet another link shows the average snow accumulation for any given day, based on the 1981 to 2010 climate period.
Any way you slice it, Copper Mountain has been blessed with snow this season, and ski and snowboarding conditions are superb, so start planning your ski getaway now by browsing though our great selection of slopeside and ski-in, ski-out condos.