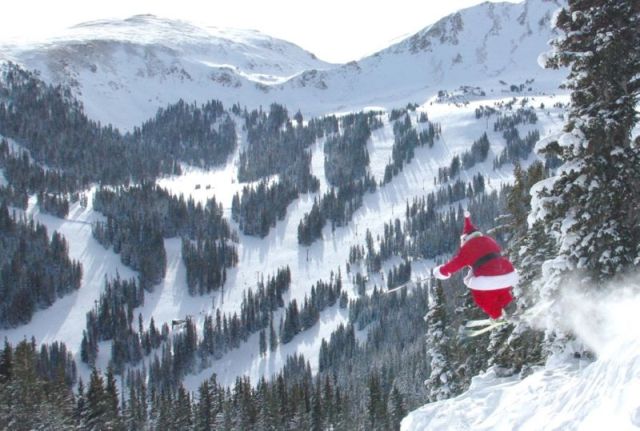 The big winter-weather news this weekend might have been the nasty ice storms that pounded parts of the Midwest and and Northeast, but here in Colorado, the weather has been shaping up just the way we like it.
Even without a major winter storm on the radar maps, Copper Mountain and the rest of the state's ski resorts have been reporting steady snowfall the past few days, thanks to moist winds the northwest that fuel precipitation as the air is forced to climb over the formidable barrier of the Rocky Mountains.
In fact, the recent weather is the best snow-producing pattern for the mountains along and north of I-70. Even without a big blue blob on the weather map, those winds bring a steady stream of snowfall, freshening the slopes with a few inches each day.
So far, this has all added up to more than two feet of new snow at Copper Mountain in December, with nine inches in just the past three days. For the season, Copper is just about to bust the 100-inch mark — and that means Copper has been able to open 1,400 acres of terrain, with 21 lifts operating and 104 trails open for holiday skiing and riding. Get the full Copper snow report here.
Take advantage of the snowy pattern with Copper's Snow Day Pass, which gives you full access to the mountain anytime the resort reports four or more inches of fresh snow.
Learn more about Colorado mountain weather with our hands-on guide to help you plan your next ski trip to Copper Mountain, and check out this blog post on month-to-month conditions at Copper Mountain.
Other resorts that do well with a northwest flow include Steamboat, which reported 21 inches in the past couple of days, as well as Winter Park, with nine inches in the last 48 hours. You can check the statewide conditions with the Colorado Ski County USA snow report.
Even if you've already made your holiday plans, this is the time to start thinking about a Copper Mountain ski weekend in January. We're eager to share our fresh snow with you, and would love to have you as a guest at one of our many fine ski-in, ski-out condos at Copper.
See you soon!