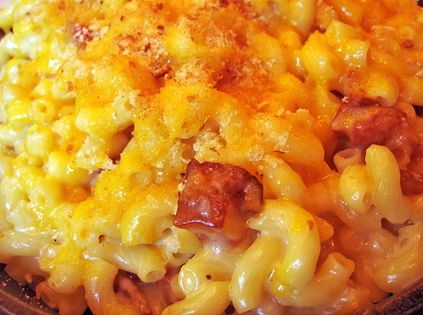 Summit County chefs will explore new culinary heights at Copper Mountain this weekend as they vie to see who makes the tastiest Mac and Cheese in the high country. The mouthwatering Mac and Cheese Fest will be held on August 22, with the one of a kind Colorado Cider & Beer Circus following on August 29 as the resort winds up the summer event season.
Mac-n-cheese goes best with a side of rock-n-roll, so Copper has lined up local favorites the John Truscelli to play during the event, which kids will love since it features an eating contest, the winner being whomever manages to polish off the most bowls of mac-n-cheese during the sitting.
The festival will close out with live music by the "funk specialists" of Hot Lunch from 3:30 to 5 p.m., and the announcement of the best mac and cheese at 4:45 p.m with a grand prize of $1,000 cash. Other activities will include a magician, a balloon artist, face painting and a kid's craft area.
For grownups, the $25 "Adult Mac Daddy Pass" includes a sampling from each participating restaurant, with their paired signature cocktail featuring Svedka Vodka.
Packages are available for kids ages 11 and under and for those ages 12-20. A-la carte tickets, or "Mini Macs", are available for both mac and cheese and cocktail samplings for $1 per ticket. All options can be purchased online at CopperColorado.com now or on-site the day of the event. All ticket options are available on a first-come, first-serve basis.
The following weekend on Saturday, August 29, the amazing Colorado Cider & Beer Circus is coming to town. The Cider Circus puts a unique spin on the traditional cider and beer tasting with circus acts. As apple harvest season kicks into high gear, more than 75 ciders and beers from Colorado and beyond will be featured.
In addition to sampling craft beverages, there will be something for everyone with cider-making demonstrations, kids craft activities and food provided by a selection of Copper Mountain restaurants. Live music will be provided by the internationally acclaimed marching band, MarchFourth!.
The group provides both eye and ear candy with their musical and visual energy that encourages dancing and creates an atmosphere of celebration. The concert is free with admission to the Colorado Cider & Beer Circus.
There are a variety of ticketing options for the Cider Circus, ranging from a Grand Tasting package to the VIP experience. A portion of the proceeds will benefit Team Summit Colorado, a group whose mission is to "promote character development through athletics by stressing self-reliance, persistence, dedication and achievement."