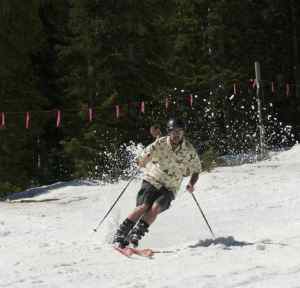 With March just a few days away, Copper Mountain is gearing up for the spring season, culminating with two weekends of Sunsation to end the season.
But before that, Copper will host the Colorado Winter Special Olympics (March 2), with more than 250 athletes competing in alpine and cross country skiing, snowboarding and snowshoeing events. The torch-lighting ceremony at 9:30 a.m. will kick off a full day of competition, ending with a torchlight parade and fireworks at Burning Stones Plaza.
And whether you're Irish or not, you can celebrate what has become a global holiday — St. Patrick's Day — with the Go Huck Yourself event in Woodward's 22-foot quarter-pipe located in Central Park Terrain Park on Saturday, March 15. Free registration is at the Woodward at Copper Cage from 9 a.n. to 11 a.m. Skiers and riders will compete to win free gear from Analog and Woodward.
Make sure to wear green on March 15, and see deals throughout the resort. When the lifts stop turning, Von Stomper fills Copper Mountain Center Village with American folk tunes with Celtic flair, followed by free St. Patrick's Day themed fireworks at 8 p.m. over West Lake located in Center Village.
If you still have some energy left, enjoy the free moonlight snowshoe tour from 6 pm. to 9 p.m. The starts in West Village, crossing frozen creeks and following wooded trails to a romantic meadow lit by the full moon. For more information please visit www.coppercolorado.com/snowshoe.
Later in the month, pro snowboarder Stephanie Sue Field will be at the resort for a March 22-23 Woodward Winter Camp session, including a half-day in the Woodward at Copper Barn and a half-day spent in Woodward's award winning terrain parks. Each camp features free gear giveaways thanks to camp-specific partnerships with some of the hottest ski and snowboard brands in the industry. For more information on Woodward Winter Camps including a full list of dates and sponsors please visit www.woodward.com.
If you're ready to start planning a March ski trip to Copper, browse our selection of Copper Mountain vacation lodging, and be sure to follow us on Twitter for daily updates, photos and more.