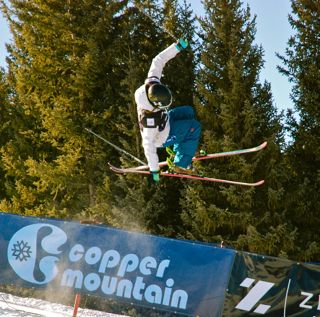 U.S. Olympic medalists including Kelly Clark, David Wise and Maddie Bowman will compete against a top international field at the Copper Mountain Sprint U.S. Grand Prix this coming week, with training and preliminary heats starting Dec. 1.
The freeskiing events at Copper will be FIS World Cup and AFP Platinum level. AFP creates a global rider ranking system based off of the top-level events in freeskiing and crowns world champions.
The snowboarding event at Copper will be co-sanctioned as both FIS World Cup and TTR World Snowboard Tour International level competition. The World Snowboard Tour creates a global rider ranking system based off the top-level events in snowboarding to crown world champions.Dual sanctioning for both freeskiing and snowboarding creates additional value for the athletes as they accrue points in all needed areas to secure spots at international competitions.
NBC Sports Network will feature coverage of the competition on Thursday, Dec. 6 at 5 p.m. EST and Sunday, Dec. 7 at 2:30 p.m. EST. Television coverage continues on NBC on Sunday, Dec. 14th at 12 p.m. EST.
Along with Olympic gold medalists Kaitlyn Farrington, Kelly Clark and Hannah Teter the contest features other big names, including Louie Vito, Elena Height and Arielle Gold.
The competition kicks off Wednesday, Dec. 3, at 8:30 a.m. with qualifiers and continues through the weekend with freeski finals on Friday, Dec. 5 and snowboard finals on Saturday, Dec. 6. Guests can catch the action free of charge at the Main Vein Superpipe located walking distance from Burning Stones Plaza in Center Village. The full event schedule is available here.
Burning Stones Plaza in Center Village transforms into the Grand Prix Vendor Village on Friday and Saturday from 10 a.m. - 4 p.m. with sponsor tents featuring Paul Mitchell, The North Face, Cheez-It's and USSA handing out samples and information to guests.