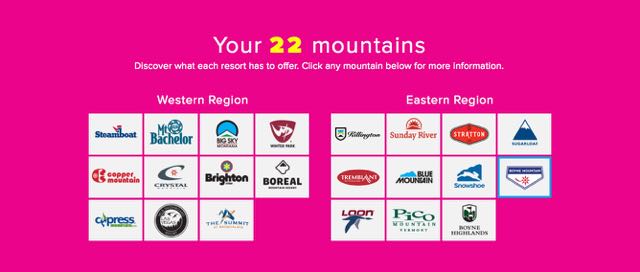 Multi-mountain passes are all the rage these days, and Copper Mountain skiers can jump into the game with the tasty M.A.X. pass, which offers access to a great stable of resorts around the country, from California to Vermont.
The pass is available as a stand-alone product, offering five days of skiing at 22 resorts, from Mt. Bachelor to Killington. The adult version is $699, with a teen pass for $499 and a youth version at $249.
And if you're already a season pass holder at one of the participating resorts, including Copper, you can get the M.A.X. pass as an add-on for $249.
These are participating resorts:
Blue Mountain, Ontario
Mont Tremblant, Quebec
Stratton, VT
Steamboat, CO
Snowshoe, WV
Winter Park, CO
Loon Mountain, NH
Sugarloaf, ME
Sunday River, ME
Boyne Highland, MI
Boyne Mountain, MI
Big Sky, MT
Brighton, UT
Crystal Mountain, WA
Cypress Mountain, B.C.
Summit at Snoqualmie, WA
Killington, VT
Pico Mountain, VT
Copper Mountain, CO
Mt. Bachelor, OR
Boreal Mountain, CA
Las Vegas Ski and Snowboard, NV
There are no blackout days on this ski pass, so you can hit the slopes whenever you want, however you want. Take a long weekend trip, hit the slopes for a single day, or take one long winter vacation. Guests who purchase the M.A.X. Pass can ski 5 days at each of the 22 participating ski resorts, for a total of 110 days of skiing at North America's premier mountain destinations.