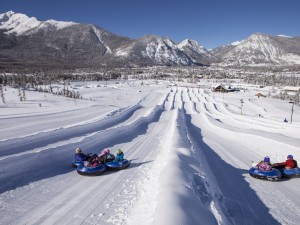 Tubing down Copper Mountain's or Frisco's carved lanes is not your old-fashioned sledding experience. First of all, snow tubes fly down long, smooth, groomed runs — there's no pushing and struggling to get going again after hitting a rough patch of snow or a flat pitch. Second of all, you're not going to accidentally crash into a pine tree.
Copper Mountain and Frisco each have their own tubing hills, and though they may not look steep from pictures — or even from the ground — we can assure you the speed will satisfy your need for excitement.
We can also assure Grandma, Grandpa and any sidelined parents that the tubing lanes are constantly maintained and monitored for safety. If they're running too fast due to thaw/freeze conditions in the spring, Copper and Frisco experts tweak them to slow them down. They also regularly groom them to provide the fastest ride possible, without compromising safety.
Now, I question whether or not I should tell you exactly how safe the runs are because, well, the first time I tubed I was pretty darn nervous (OK, so I even let out a let's-call-it-excited-even-though-it-was-a-scared scream). It seemed like the tubes could fairly easily ride up the side, sort of like riders and skiers surf a half pipe, and I imagined my tube not just surfing, but actually surging off the lip, which separated me from another careening tuber.
As it turns out, no matter how you shift your weight or end up going sideways or backwards, you remain in your lane, even with Copper's banked curves, jumps and long run out.
Once you test drive one run, you can move on to steeper, faster lanes Copper and Frisco tubing offer. You can also ask the attendant at the top to push you off backwards or sideways, or, for the most dizzying fun, ask them to spin you. They can spin lightly or faster, so you can up the ante time after time.
Snow tubing is a great family activity, as it is safe for grandparents, a thrill for adults and a memorable blast for kids. Groups can even link tubes and ride down together; this is a great way for younger kids (at least 36 inches tall) to get used of the ride down.
Snow tubing is also a perfect alternative to skiing on a day off, or as an additional activity after skiing, since both Frisco and Copper offer evening tubing under the lights — yet another unique experience.
Located at the base of Super Bee Chair, Copper Mountain's regular season prices are $26 (holiday cost is $32) an hour, but if you buy your tickets at least one day in advance, you save 20 percent. Plus, additional hours are only $13 ($16 on holidays). Copper also offers special group rates. Lanes are open from 11 a.m. to 4 p.m., 6 p.m. or 7 p.m. depending on the day.
Located at Frisco Adventure Park, just past Frisco on the way to Breckenridge, hourly rates start at $25. If you're fortunate to own a home in Summit County, it's $22, and if you live in Frisco, it's $20. Additional hours are $10. Holiday rates increase to $30/$27/$23. The hill features 1,200-foot tubing lanes and is open 10 a.m. to 6 p.m. (7 p.m. on holidays).
To start your snow tubing adventure, call Copper Mountain at 886-416-9874 or visit [url=http://www.coppercolorado.com]http://www.coppercolorado.com[/url].
To reserve Frisco snow tubing, call 800-424-1554 or visit www.townoffrisco.com/play/winter-activities/tubing.
Just remember to dress warmly, because you won't be breaking any kind of sweat to get to the top of the tubing lanes; a magic carpet gently takes you right to the top.