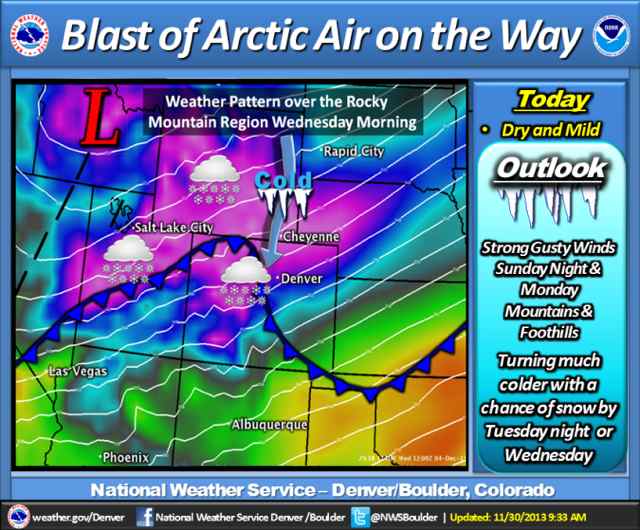 Right on schedule, the first big outbreak of Arctic air is set to arrive in Colorado in early December. And for now, all the forecasts are also predicting snow - with the heaviest around midweek, and showers continuing through the weekend.
It's slightly unusual when all the weather models agree on the timing and intensity of a storm that's still a few days away. But when it does happen, it's time to get your skis waxed and perhaps start planning an early season long weekend getaway to Copper Mountain. We have plenty of ski-in, ski-out condos available for the pre-holiday season, and we'd love to help you find the best Copper Mountain lodging available. Start by browsing our rentals here.
Atop a late-November base that's already 120 percent to 140 percent of average, another six to 10 inches of snow could fall sometime between Tuesday night (Dec. 3) to Thursday (Dec. 5), especially with the storm set to arrive from the northwest, the favored direction for Copper Mountain and Summit County.
What's not clear yet is exactly how cold it's going to get. Some forecasts say the coldest air will stay east of the mountains, and Denver may be colder than Summit County, but other models show the coldest air spilling right down the Rockies.
Either way, bundle up and get ready for some of the best early December powder skiing in the last few years. Starting Tuesday night and continuing through the following weekend, low temps at night will likely fall below freezing, and daily high temps probably won't get out of the teens 20s, but that's what it takes to produce a good snowstorm!
Specifically, the Colorado Avalanche Information Center (which produces the most accurate forecasts specific to Summit County) is calling for 6 to 12 inches of snow between Tuesday night and Wednesday, with snow showers lingering through the weekend. The latest forecast discussion from the National Weather Service suggests a similar scenario, and Denver weather bloggers are also projecting a good old-fashioned cold snap for most of the state.
Follow us on Twitter for more updates as the storm gets closer, and visit our Facebook page to see what our Copper Colorado Condos friends are saying.