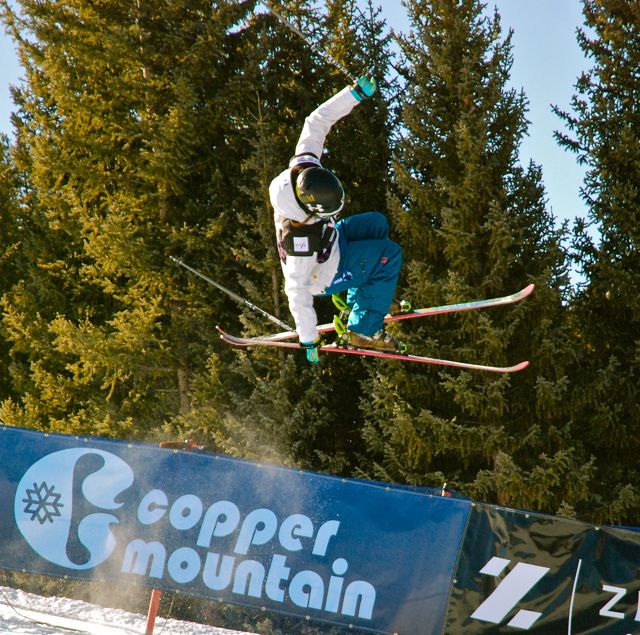 It's game-on at Copper Mountain, where resort crews have fired up the snowmaking guns to prepare for the scheduled Nov. 1 opening. The early focus is on the U.S. Ski Team Speed Center terrain off the Super Bee lift, where the U.S. Olympic team, along with racers from other countries, will start to gather in November for some of the best training conditions in the world.
The U.S. Ski Team Speed Center features 87 HKD automatic snowmaking guns designed to blanket the only full-length downhill training facility available for training at this time of year.
"The U.S. Ski Team Speed Center at Copper was a huge step forward in supporting ski racing in North America," said Ted Ligety, Olympic gold medalist and four-time World Champion. "It's cool to now see that support evolve into a fan event that kicks off our road to Sochi and celebrates the start of the ski season."
Along with the speed center terrain, Copper will make snow on terrain served by the American Eagle chair, as always providing prime early season skiing and riding for guests.
"Copper Mountain is the early-season location stateside where guests can experience Olympic Mania in the days leading up to the 2014 Olympic Winter Games in Sochi," said Copper VP of marketing and sales, Jesse True. "We are honored to host the U.S. Ski Team First Tracks event, kicking off the team's Olympic season."
According to a press release from Copper Mountain Resort, the full team of Olympic hopefuls, including Ted Ligety, Bode Miller, multiple World Cup winnner Lindsey Vonn and slalom ace Mikaela Shiffrin will be introduced Nov. 8 during Nature Valley First Tracks Alpine Team Naming — a free all American pep-rally open to the public to kick off the ski and snowboard season.
The full day event allows fans to catch the U.S. Ski Team training, participate in a fan-led parade and official naming ceremony, followed by an athlete autograph session and headlining live music in Burning Stones Plaza, located in Center Village.

One lucky winner will receive a trip for four to Copper Mountain for the U.S. Ski Team First Tracks event weekend. The grand prize package includes round trip airfare courtesy of Delta Airlines, three nights of lodging at Copper Mountain Resort, shuttle transportation to and from Denver International Airport, lift tickets, four U.S. Ski Team Spyder jackets and a GoPro camera package.
Fans can enter now at U.S. Ski Team and Copper Mountain Facebook pages, no purchase necessary. Ten runner-up winners will receive two VIP credentials to the First Tracks event, allowing special access to training viewing at the U.S. Ski Team Speed Center, the ceremony and the all-American blow out celebration. Entries to the First Tracks Giveaway will be accepted until Oct. 17.

NATURE VALLEY FIRST TRACKS SCHEDULE (all times local and subject to change)
Friday, November 8

Vendor Village in Burning Stones Plaza, located in Center Village
9:00 a.m. – 5:00 p.m.

U.S. Ski Team Speed Center Viewing (East Village)
11:00 a.m. – 2:00 p.m.

"Believe in U.S." Poster Party (CCC - Ptarmigan Rooms)
3:00 – 4:30 p.m.

Nature Valley First Tracks (Burning Stones Plaza)
4:30 –5:00pm

Copper All American Concert (BSP)
5:00 – 8:00pm

Lock in snow days for the 2013/14 winter season with the Copper Season Pass and Copper 4-Pack, on sale now. Visit www.CopperColorado.com for more information.
Follow Copper Colorado Condos on Twitter for daily updates and join our friends on Facebook to share your ski season adventures with other Copper Mountain fans.