It's a party in pink!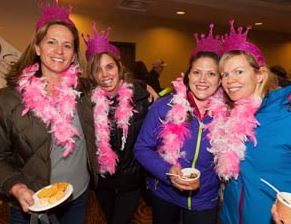 Snowshoeing to raise funds for breast cancer research has been a long-held tradition in Frisco — one that brought Summit County residents and visitors together for a fun "romp to stomp out breast cancer."
But its former name, "Tubb's Romp to Stomp," seemed a little too formal for Frisco's laid-back, pink boa, tutu and tiara event, so the Town of Frisco renamed it: Snowshoe for the Cure Pink Party.
The party, as Frisco now calls it (since the Frisco community of women have made it much more than an event or a recreational activity; it truly is a party) happens from 5-8 p.m. Friday, March 4.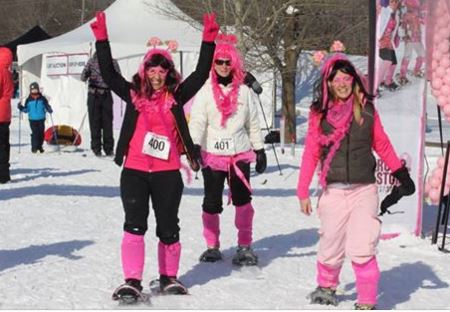 But take note: the actual snowshoe event is Saturday morning, March 5. Registration is 7:30-9 a.m. at the Frisco Nordic Center, and most treks start around 9 a.m. There's also a pancake breakfast that begins at 7:30 a.m., an 8:30 a.m. Zumba warm up, and awards at 11 a.m.
Various snowshoe options exist. The 3K Walk meanders through 3 kilometers of Frisco's Nordic Center's groomed trails; it begins at 9:25 a.m..
The 5K Walk is also groomed and begins at 9:15 a.m. Registration for either one is $45 until March 3, and $50 the day of. While you don't have to try to raise more funds by asking family and friends to support you, you're encouraged to do so.
Kids 12 and under can get in on the fun at 8:45 a.m. They get to stomp around a short, simple course at the Frisco Nordic Center (which, by the way, also offers sledding), and kiddos are free with a registered adult. Not only do they love the outdoor festivities, but also, they love proudly showing off their medals.
All registration comes with free demo Tubbs snowshoes (first come, first served, and these are regularly $18 to rent), a goody bag with swag, entry for prizes, and, of course, the pink after-party at the Summit County Senior and Community Center.
If you're not into snowshoeing, you can get involved by volunteering (to stuff goody bags, help with set-up and teardown, or be a high-fiver, course marshal). Just send an email to: [email protected].
Every two minutes, doctors diagnose a new case of breast cancer. In 1980, the 5-year average survival rate for early stage breast cancer was about 74 percent. Now, it's 99 percent, thanks to fundraising for research, education, screening and treatment.
Whether you're a breast cancer survivor or know someone who is (or who fought it), this party is truly one of the best ways to celebrate life.
The event usually draws several hundred participants, including kids (because, after all, even if kids don't understand what breast cancer is, they still love to wear pink and get out in the snow).
The community event has always benefitted local breast care and Susan G. Komen Foundation, as it will this year. And what's really cool is: 100 percent of the net proceeds promote breast health; 75 percent of the income remains in the Frisco, Copper Mountain and remaining Summit County region to offer local breast health education, screenings and treatment, while the remaining 25 percent supports the Susan G. Komen Grants Program.
As part of the pink party, you'll get free appetizers and drinks — and the fun and frivolity of participating in a pink dappled merchant trunk show.
To participate in the pink party Friday night, meet at the Summit County Community Center at 0083 Nancy's Place, CR 1014, Frisco. The Community Center is across Highway 9 from the Frisco Adventure Park and Frisco Nordic Center. On Saturday, meet at the Frisco Nordic Center.
For more info, visit http://www.townoffrisco.com/events/stomp-for-the-cure/ or http://colorado.info-komen.org/site/PageServer?pagename=DEN_Stomp_TR_aboutevent