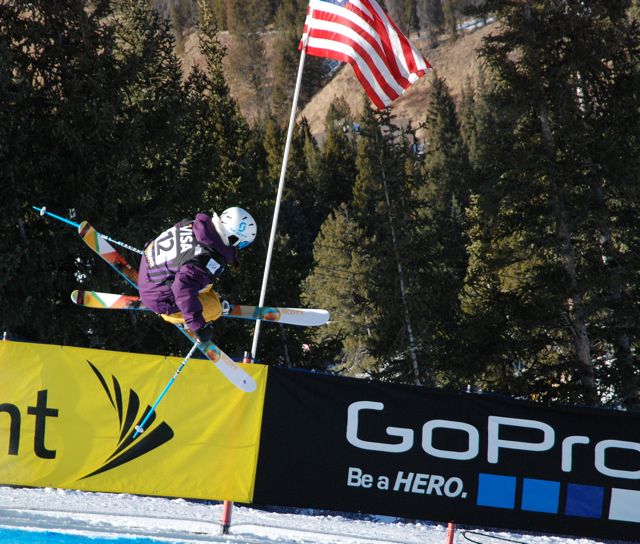 FRISCO — Colorado ski snowboarding fans will get a first look at some athletes likely heading for the 2014 Winter Olympics in Sochi when the Sprint U.S. Grand Prix comes to Copper Mountain this week. Qualifying runs are January 9 and 10, with finals set for January 11 and 12, 2013.
Along with the traditional halfpipe competitions, this year's Grand Prix stop at Copper includes a slopestyle event, newly elevated to World Cup status by FIS and on the schedule at the Sochi winter games as the newest Winter Olympics event. Athletes competing at Copper will be working toward earning points to qualify for next year's winter games.
There's foot spectator access to the Main Vein Superpipe from Copper's Center Village, or on-mountain access skiing via Main Vein trail. Get up close and personal in the new Central Park Lounge spectator viewing area located on the World Cup Slopestyle course in the Woodward Central terrain park — complete with beverage service.
Slopestyle course viewing is only accessible for skiing guests via Loverly trail off of the Union Peak Quad chairlift. The competition schedule is subject to change, but the full event schedule is online here.
More Fun Stuff at Copper Mountain this week:
Along with the competitions, Copper Mountain has added some other events to liven up this year's Grand Prix:
Thursday, January 10th, 4 - 8pm: Taylor Guitars holds a free Jam Session in the Lower Lobby Area of the Copper Conference Center.
Friday, January 11th, 11:30am: 2012 X-Games Gold Medalist and AFP Halfpipe Champion Rosalind Groenwoud will meet fans at the Spyder Concept store in Center Village.
Friday & Saturday, January 11th & 12th, 9am - 4pm: Burning Stones Plaza in Center Village transforms into Grand Prix Vendor Village. Sprint, Chipotle, Nature Valley, Paul Mitchell and a wide variety of other sponsors will be handing out swag and hosting giveaways.
Friday, January 11th, 7:30pm: The party continues into the night and throughout the weekend when Copper Mountain's Center Village comes to life. In the Copper Mountain Conference Center, Taylor Guitars presents a free screening of Waiting for Lightning, a film that documents the life of the iconic skateboarder and visionary, Danny Way.
Saturday, January 12th, 6:30pm, after the finals: Chicago-based duo Wild Belle takes the stage for a free concert at Jack's Slopeside Grill for the U.S. Grand Prix closing concert. An up-and-coming rock/folk musical duo, Wild Belle was recently featured on Late Night with Conan O'Brien making their television debut.
Copper Condos still has two ski-in, ski-out Copper Mountain condo rentals available for the weekend. Copper Junction 401 is available Friday and Saturday nights, and Copper Junction 201 is available Friday, Saturday and Sunday nights. Both of these condos are located in Copper's Center Village and have views of the Burning Stones Plaza and American Eagle lift. They are some of the best locations in Copper! You can book online now, or feel free to contact us if you have any questions.