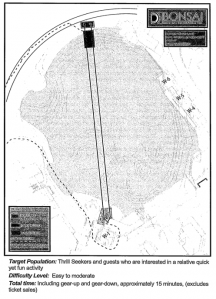 Summit County, Colorado — Zip line fans may soon be able to get their fix locally instead of driving down Glenwood Canyon. The Village at Copper is looking to build a dual zip line in the heart of the resort, passing over West Lake.

In a May 6 letter to the Summit County planning department, Village at Copper director Peter Siegel says the zip line launching point is planned for a spot near the Sugar Lips mini-donut shop, with the landing area across the pond next to Mulligans Bar and Restaurant.

The zip line will be about 300 feet long and would operate both winter and summer, with the needed gear stored in the Zamboni garage.
"We feel the Zip Line is a great fit at West lake, and that as discussed, this activity is an Active Recreation Use designated by the PUD for this area. West Lake already is the location of Ice Skating and Bumper Boats and therefore is a synergistic activity with the existing uses," Siegel wrote.

Tickets would be sold at guest services and other merchant locations in the vicinity.

Copper owner Powdr Corp is behind the proposal, calling it a recreational benefit for owners, stakeholders and resort guests.

The Village at Copper hired Grand Junction-based Bonsai Design to do a feasibility study for the zip line. The company explored other on-mountain locations for a larger zip line installation, but "programmatic flow and accessibility" rule out the mountain zones, according to the feasibility study filed with the county planning department.

According to the study, the zip line could be installed in three to four weeks at a cost of about $20,000.

The Excelerator Bowl area may be further studied for installation of a "high-speed, extremely steep and fast racing zip line installation," according to the study.

The feasibility study also discusses a "discovery forest" tour that would provide a family style or multigenerational tree-bound, challenge-course style experience. The self-paced sky tour would be designed to entertain and challenge unaccompanied children ages 1- to 15 but could also be appropriate for adults and corporate retrial groups.

The course (similar to a ropes course) could include 10 to 15 challenge elements, three to five entry and sky bridges, multiple platforms and another zip line. The idea is to create a tree-based course including rope traverses, adventure bridges, balance walks and swings, enabling guests to get into the forest canopy.

Any on-mountain developments on national forest land, like a zip line or challenge course, would involve review and permitting by the U.S. Forest Service.