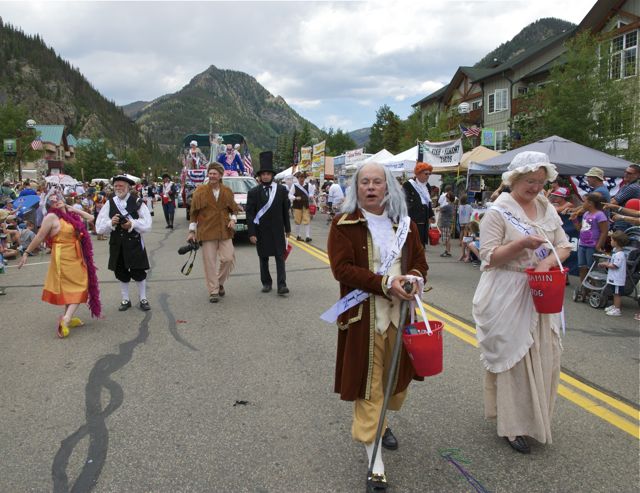 There are always plenty of fireworks and hotdogs to go around on the Fourth of July, but if you're in Summit County this year, head over to Copper Mountain for a taste of something a little different.
The renowned Wanderlust Festival is coming to the Copper, coinciding with the Independence Day holiday, and offering some calming activities to balance all the holiday excitement, including standup paddleboard yoga, Qi yoga and slackline yoga.
Take in some knowledge at the Speakeasy venue with presentations by prominent yoga teachers, wellness industry leaders, authors, musicians and more. Wanderlust also features an extensive music line-up including artists MOBY, MC Yogi and Blue Canyon Boys. A full events and activities calendar can be found here.
In addition to its daily activities, Wanderlust takes a spin on the traditional 4th of July celebration with the "Primp My Ride" Kid-Powered parade on Saturday, July 6 at 10 a.m. All kids are welcome to decorate their personal bike, skateboard or roller skates with recycled materials and show off their newly decorated "vehicles" through Copper's Village led by the Copper Mountain Fire Department. The parade kicks off a full day of events for kids ending with fireworks over West Lake at 9 p.m. Full details on Wanderlust for Kids can be found here.
Elsewhere in Summit County, Frisco is always a Fourth of July hotspot, starting with the traditional Pancake Breakfast (8 a.m., Main Street and Granite), followed by a kids fishing derby at the Meadow Creek park (behind Walmart) at 9 a.m. and the famed Main Street Parade, starting at 12:30 p.m. The rest of the day will be filled with music, from Big Band sounds at the Town Gazebo to rock-and-roll at Marina Park.
And after taking a year off due to last summer's extreme drought conditions, Frisco's famed fireworks over Dillon Reservoir are good to go this year, with the first skyrocket scheduled to launch at 9:30 p.m. Visit Frisco's website to see the full schedule.
In Dillon, the National Repertory Orchestra will perform at the town amphitheater at 10 a.m., followed by a boat parade on Dillon Reservoir (2 pm.). Kids' activities in Dillon include turtle races, as well as apple pie and watermelon eating contests! Get the full Dillon schedule here.
In Breckenridge, the festivities start with a 10k trail run, followed by the popular Firecracker 50 bike race, and the Main Street parade. If you missed the NRO in Dillon, you can catch the patriotic concert in Breckenridge at the Riverwalk Center at 8:30 p.m. Visit the Go Breck website for the full schedule.
Follow Copper Condos on Twitter for daily updates and links to information about Copper Mountain and Summit County.