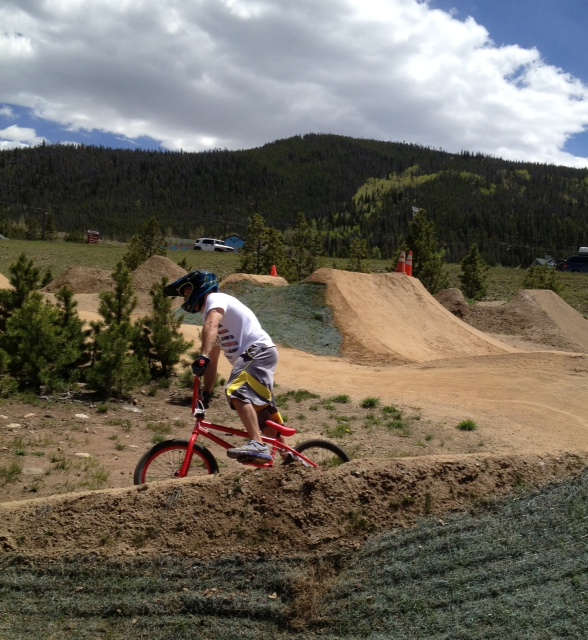 Don't let anyone tell you that vacation travel has to be terribly expensive — if you choose a Frisco vacation rental with us, you'll be able to live like a local, stocking up at the nearby grocery store, grilling your own meals on the tree-shaded back deck and walking two blocks to visit all the great shops and eateries on Frisco's Main Street.
Our super-spacious Peak One townhome in a quiet residential neighborhood is perfect for a big family, a couple of families traveling together or even just a group of hiking or mountain biking buddies. It sleeps up to 12 people, including a four-bed bunkroom and has a private hot tub and our rates for June are extra-special.
And why spend the big bucks to visit one of the nearby megaresorts when there's all sorts of free fun just outside your door in Frisco. For starters, head over to the Frisco Adventure Park for a round of disc golf on one of the most scenic courses in the world. And if you brought your mountain bike, be sure to check out the trails that start at the Adventure Park and weave through the rolling hills of the Frisco Peninsula. And the free bike cross terrain park is fun for any age, although you'll have to have your own bike.
After an active day, enjoy the Peak One hot tub and listen for the chickadees in the pines around the deck. The next day, head into to town to explore the free Frisco Historic Park, which lovingly recreates and honors the town's pioneer heritage in a series of funky log buildings and cabins in the heart of town. The award-winning museum hosts a variety of free activities and presentations throughout the summer.
If you're visiting in early June, your trip might coincide with free fishing weekend, held each year to encourage new participation. So if you haven't wet a line in a while, now's your chance. Grab a rod and some lures and head out to one of the many nearby fishing holes, including Black Lakes, up at Vail Pass, the Curtain Ponds, between Frisco and Copper Mountain, or even the Blue River, known for a Gold Medal concentration of big brown lunkers and feisty rainbow trout. Or venture up toward Fremont Pass to hook a native cutthroat trout in Clinton Gulch.
If you're staying a Frisco vacation rental an extra day, consider heading over Vail Pass for a 15-mile roadtrip to Vail's Betty Ford Alpine Garden, one of our all-time favorite free attractions in the high country. The garden displays intense clusters of seasonal blooms from around the world. An hour walk around the compact garden will open your eyes to plant life from the Alps, the Himalaya, South Africa and the Andes.
Follow us on Twitter or Facebook for regular updates lodging deals, events and activities at Copper Mountain and Frisco.