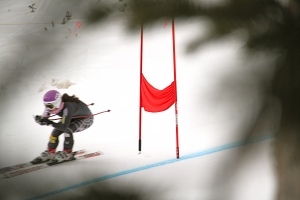 It was a big day for U.S. ski racers in Europe, as Travis Ganong, of Squaw Valley, scored his first-ever World Cup downhill win, while slalom ace Mikaela Shiffrin claimed the top of the podium in a slalom in Austria.
The twin victories show the U.S. Team may be peaking at the right time to win medals at the upcoming Vail-Beaver Creek alpine skiing world championships (Feb. 2- 15, 2015).
Ganong's victory came at the Santa Caterina downhill. Austria's Matthias Mayer was the only one who got close to Ganong, finishing in second, nine-hundredths back. Italy's Dominick Paris was third. It was first time the men raced on the Deborah Campognini downhill, which is a traditional site for women's downhill including World Championships in 1985 and 2005.
"It was a perfect run!" said Ganong. "I love to take on a new challenge and a new slope. I love the hill—the mountains are huge here and it's fun skiing."
Starting 16th, Ganong took charge of the race from the outset. He skied a very straight line to build a lead, then nailed a perfect sweeping turn through the final carousel to take the lead. It was his second career podium after finishing third in Kvitfjell, Norway last February.
The men's downhill tour now gets a break until the Lauberhorn in Wengen, Switzerland Jan. 16-18. The tech team is in action with a slalom Jan. 6 in Zagreb, Croatia before heading to Adelboden, Switzerland and ultimately to the February FIS Alpine Skiing World Championships at Vail/Beaver Creek.
In Kühtai, Austria, Shiffrin put down two nearly perfect runs and never relinquished the lead against a stacked field. Shiffrin skied confidently and built her lead throughout the second run, winning by .80 of a second.
Shiffrin is the first to acknowledge that she's been suffering from nerves and gear issues throughout the past few months. "The second run was the first time that I felt like I was smooth and attacking," she said breathlessly, after her victory. "I finally trusted my skis, not just my ability."