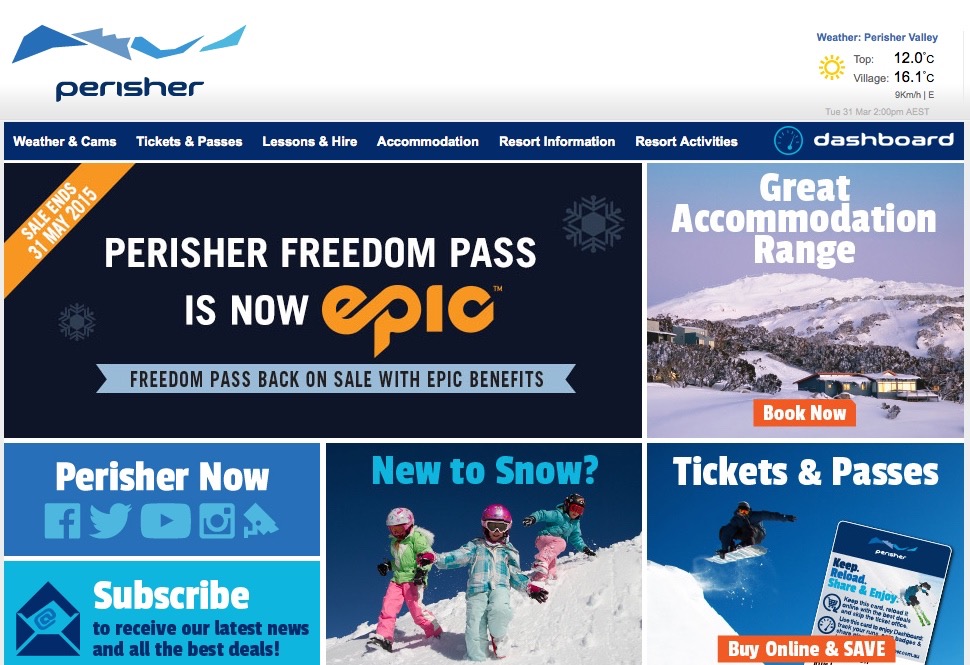 After forging marketing partnerships with resorts in the European Alps, Vail Resorts is jumping the rest of the way into the international game, announcing that it wll buy Perisher Ski Resort in New South Wales, Australia for about $136 million. The deal will help Vail Resorts earn money during the North American summer, balancing out revenue seasonally.
Perisher is the largest and most visited ski resort in Australia, and is well-positioned with access to the country's largest cities, including Sydney, Melbourne, Adelaide, Canberra and Brisbane. Perisher is also the largest ski resort in the Southern Hemisphere. The acquisition is expected to close in the fourth quarter of fiscal 2015.
The Company is purchasing 100 percent of the stock in the entities that operate Perisher from Murray Publishers Pty Ltd and Transfield Corporate Pty Ltd in Sydney. Perisher holds a long-term lease and license with the New South Wales Government under the National Parks and Wildlife Act, which expires in 2048 with a 20-year renewal option. The acquisition includes the resort areas known as Perisher Valley, Smiggin Holes, Blue Cow and Guthega, along with ski school, lodging, food and beverage, retail/rental and transportation operations, which together comprise Perisher.
"The acquisition of our first international mountain resort is a significant milestone for our Company. We're thrilled to welcome the guests and employees of Perisher, Australia's largest and most iconic resort, into the Vail Resorts family and deepen ties with one of our most important international markets," said Rob Katz, chairman and chief executive officer of Vail Resorts.
"This acquisition is part of Vail Resorts' continued strategy to drive season pass sales and build loyalty with guests from around the world. Australia is one of the most important international markets for ski resorts across the Northern Hemisphere, generating an estimated more than 1 million skier visits annually to resorts in North America, Japan and Europe. We see this as a ground-breaking acquisition that will dramatically enhance the connection between our Company and Australian skiers and riders. We also see the acquisition as a natural fit, as Perisher is the Australian leader in innovation and guest experience – both hallmarks of Vail Resorts."
Vail Resorts also announced that as of today, Perisher has re-opened season pass sales for its upcoming ski season, which is set to open on June 6, 2015. Perisher's popular "Freedom Pass" is on sale for AU$749 and will include benefits substantially similar to Vail Resorts' Epic Local Pass, with unlimited skiing and riding at Breckenridge, Keystone and Arapahoe Basin in Colorado; Park City and Canyons in Utah; and Heavenly, Northstar and Kirkwood in the Lake Tahoe area of California and Nevada. It also will include 10 days of free skiing and riding at Vail and Beaver Creek in Colorado. All U.S. resort access will be subject to certain holiday restrictions. Upon closing the acquisition, all previous purchasers of the 2015 Perisher Freedom Pass will also receive these new benefits and all Epic Pass purchasers will receive unlimited and unrestricted skiing at Perisher.
Vail said it expects Perisher to generate about $16 million in the year following the purchase.