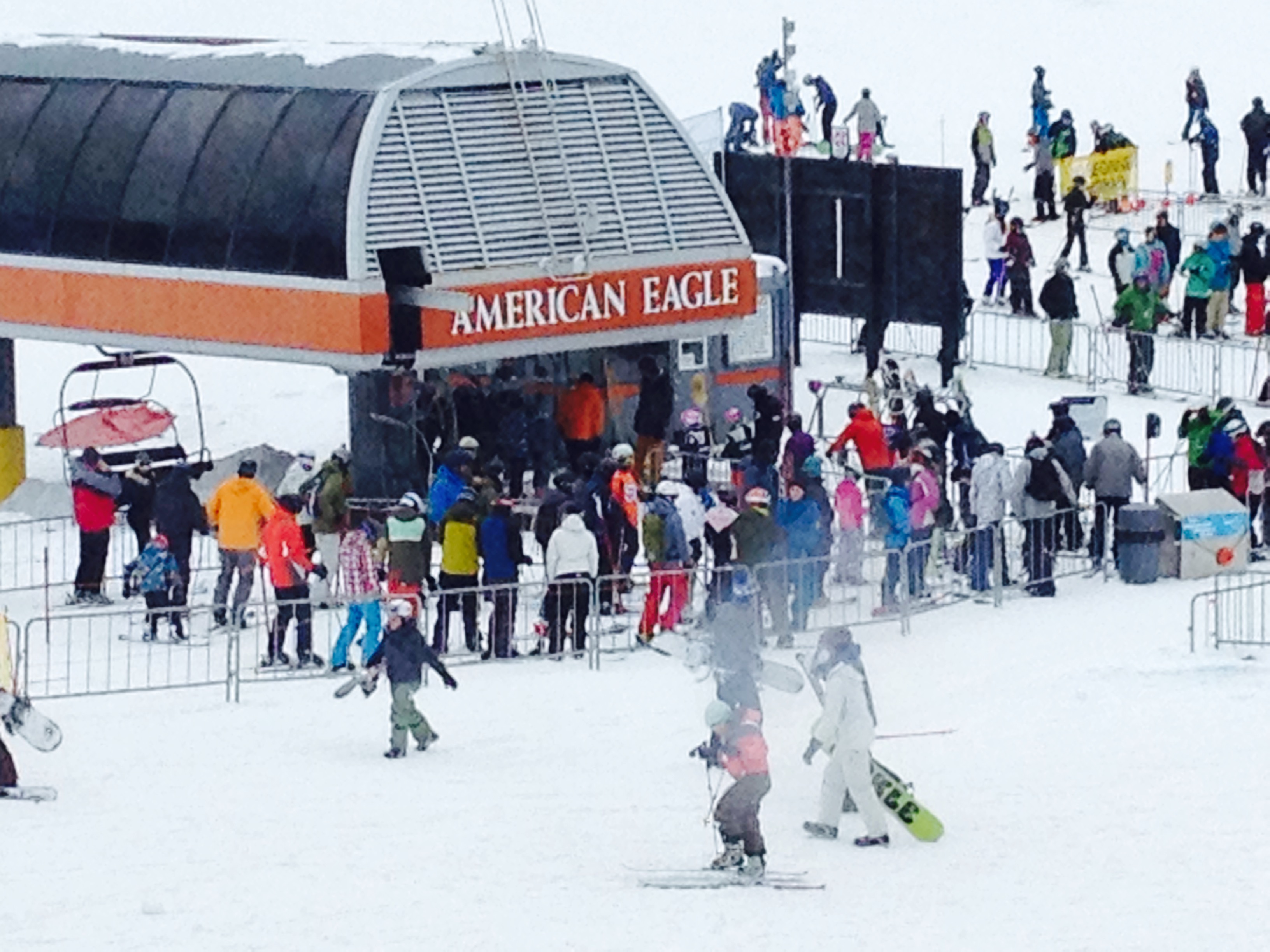 Copper Mountain celebrates spring like no other Colorado ski area with Sunsation — a weekend of live music, a Slopesoakers competition, and, back by popular demand: the Eenie Weenie Bikini contest. The festivities take place April 16-17, and for a special treat...there will be loads of fresh snow!
Eenie Weenie Bikini Contest
First, let's talk about the flesh. Copper Mountain had a long-held tradition with its Eenie Weenie Bikini Contest; Rolling Stone Magazine featured the debut of the contest in 1986. But, the on-snow spectacle took a break from it for a few years so as not to cause any controversy.
But, bikinis ultimately won out, and in 2013, Copper brought back its Eenie Weenie Bikini Contest.
And, this one's not just for women, or "hot bodies." It's for men, too, and plenty of them show up for the fun.
Come up with a creative costume, perhaps a little dance and bootie shake (the judges love that), and creative shenanigans (falls are fun for the audience to watch, but not so much for the belly). Get ready to laugh as snowboarding men do flips, or teams kick up their ski boots like Rockettes (OK, they don't quite get their lets that high).
The contest takes place Sunday, April 17 at 1 p.m., and registration runs from 9:30 a.m. to noon at Burning Stones Plaza.
Copper's live music and Slopesoaker
Sunsation begins with the Red Bull Slopesoakers Competition, from 10:30 a.m. to 2 p.m. (Register for free at Woodward Cage from 9-10:30 a.m.) Saturday, April 16.
Copper takes spring pond skimming to the next level with its Slopesoaker competition, which involves skiing or riding rails suspended above two separate water holes. Though it's a tricky balance, many think it's worth the first-place prize of a season pass to Copper Mountain.
And, Slopesoakers isn't all about skill; both the best costume and the best crash win a Copper 4-Pack, while the best trick scores a two-night stay in a one-bedroom Copper condo.
At 2:30 p.m. Saturday, the live music begins, with headliner Far East Movement taking the Burning Stones Plaza stage from 3:30-5 p.m.
Far East got its start in L.A.'s Koreatown, with its rap-based sound. Spin has hailed them the EDM pioneers with a penchant for getting people up and dancing.
On Sunday, the music revs up again with Count Tutu at 2:30 p.m. and headliner My Brothers Keeper, featuring John Popper, from 4-5:30 p.m.
Count TuTu rolls in an Afro-beat with a soulful sax, trombone, and, of course, rhythmic percussion.
My Brothers Keeper changes its up a bit with its Cincinnati-based bluegrass and folk, fused with a contemporary, energetic sound and positive vibes. John Popper, front man of Blues Traveler, will join in with guitar, vocals and perhaps a bit of harmonica.
With Sunsation's variety of music and hysterical and exciting competitions, there's something for just about everyone. So head over to Copper Mountain's end of the season Sunsation (though, remember, Copper will close for the following weekdays and re-open April 22-24, so enjoy).